Book this PlayerBack to Search
Nicole Stokes
Violin
ORCHESTRAL
Professional:
Royal Philharmonic Orchestra
Royal Philharmonic Concert Orchestra
London Philharmonic Orchestra
RTE National Symphony Orchestra
London Concert Orchestra
English Festival Orchestra
Southern Sinfonia
Worthing Symphony Orchestra
Guildford Philharmonic Orchestra
London Soloist Chamber Orchestra
London Contemporary Orchestra
Southbank Sinfonia
London Contemporary Orchestra
Opera 2005
Training
BBC Concert Orchestra mentor Scheme and chamber work
Orchestra Europa
RCM Sinfonietta
TCM Symphony Orchestra, Chamber Orchestra, String Orchestra and Opera Orchestra
Young Musicians Symphony Orchestra

RECORDINGS & SESSIONS
BBC Radio One Live Lounge, Stamford and Sons, London Contemporary Orchestra

LPO Live- premiers of new works
'Alien 3' session recording-LCO
Globe sound track for film and television library
BBC PROMS 2018 London Contemporary Orchestra: Pioneers of sound concert
COMMERCIAL WORK
Il Divo-Live at Hammersmith Apollo
Andrea Bocelli-Live Tour
EDUCATIONAL PROJECTS & OUTREACH
BBC Concert Orchestra Education Projects including BBC Radio3 Discovering Music
London Philharmonic Education projects, including BrightSparks.
 "Cyril Jackson Sings" Project – Session Leader (Trinity College of Music)
St Joseph's College, Ipswich – Lunchtime String Concert (Coordinator) Ages 7 – 18
CHAMBER & SOLO
Prince Regent String Quartet (Barbarolli Prize Winners)
Ramsay String Quartet
Mozart Sinfonia Concertante – Woodbridge Symphony Orchestra
Beethoven Violin Concerto – Woodbridge Symphony Orchestra
EDUCATION
Trinity College of Music – Postgraduate (2007 – 2008)
Trinity College of Music – BMus (Hons) (2003 – 2007)

Professors:
Ann Hooley, Gina McCormack, Ani Schnarch
Masterclasses:
Peter Pople, Rosemary Warren-Green,David Kennedy, Jon Thorne, Ian Jewel, Nic Pendlebury, Richard Ireland
The information contained in this CV is provided by the client of MAS.
MAS takes no responsibility for its accuracy.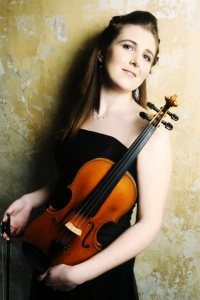 Instruments
Violin
Ensembles
The Freyja Piano Trio