Book this PlayerBack to Search
Hannah Schofield
Cello
Professional Orchestral Experience
•    Royal Philharmonic Orchestra
•    English Chamber Orchestra
•    Welsh National Opera
•    London Concert Orchestra
•    New London Sinfonia
•    Brandenburg Sinfonia
•    Southern Sinfonia (Principal Cello)
•    Surrey Opera
•    Thames Festival Orchestra
•    Urban Soul Orchestra
•    Northern Lights Symphony Orchestra
•    The Sinfonietta
•    Isle of Wight Symphony Orchestra
•    London Choral Sinfonia
•    Westminster Opera Company
•    New Sussex Opera
•    St Paul's Knightsbridge, Festival Orchestra
•    Jersey Symphony Orchestra
•    Dartington Festival Orchestra
•    Orion Orchestra
•    Amadeus Orchestra 
Orchestral Training
•    BBC Symphony Orchestra, side-by-side
•    London Philharmonic Orchestra, side-by-side
Solo/Chamber music performances
•    Barbarolli Chamber Music 1st prize - 2006
•    Cavatina Chamber Music Competition, Highly Commended - 2005
•    Various recording work/solo cello, including for The Guardian/Carphone Warehouse advertorial 
Recording work
•    UK tour in orchestra for Evanescence at RFH and Hammersmith Apollo
•    West European Symphony Orchestra at Abbey Road Studios
•    Performed with the band Disturbed at the O2 Arena, London
•    Britain's Got Talent, Live Show on ITV (strings), for Face Music
•    Susan Boyle - BBC Children In Need performance
•    Gavin Boyter's film Sparks and Embers (music by Dimitri Scarlato)
•    National Film and Television School
•    Album recordings for Alex Berger 'Snow Globe'  & Othon Mataragas 'Digital Angel'
•    Theatre productions (various recordings)
•    Film soundtrack for Dead Rich (short film shown at LA and Cannes Film Festivals)
•    Solo cello track for Garden House film (music by Troy Banarzi, shown at National Film Theatre,)
•    Trinity College of Music String Ensemble (Backing tracks for Julian Arguelles album As Above So Below)
•    Music Inspire Film advertisement for Carphone Warehouse and The Guardian, with Adjust Your Set production Co.
•    Ebony Bones · Cee Lo Green · The Maccabees · Simian Mobile Disco · London Community Gospel Choir
 
Education
•    Trinity College of Music. BMus (Hons) 2:1 (2003) · PG Perf. Dip.  Pass (2004) · PG Adv. Perf. Dip. Pass (2006)
Teachers: 
Naomi Butterworth, Richard Markson & Derek Avis
The information contained in this CV is provided by the client of MAS.
MAS takes no responsibility for its accuracy.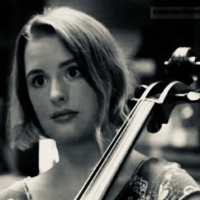 Instruments
Cello