Book this PlayerBack to Search
Dominic Moore
Violin
Viola, Mandolin, Piano
Website
Bach Partita no.2 in D minor
Live, unedited recording of a performance at St George's Beckenham November 2007.
1. Allemanda
2. Corrente
3. Sarabanda
4. Giga
5. Ciaccona
Publication
Current Positions
St George's Chamber Orchestra (www.sgco.co.uk) – Leader/Fixer

Alina Orchestra - Leader
Phantom of the Opera (West End 2021 production)
Pro Corda - Senior Course Director
New Hall School - Violin and Viola teacher

Leading
Ulster Orchestra
Bournemouth Symphony Orchestra
Royal Liverpool Philharmonic
Milton Keynes City Orchestra
Orquestra Nacional do Porto
Birmingham Opera for Graham Vick's production of King Idomeneo- 2008
Opera Group for Kurt Weill's Street Scene (winner of the Evening Standard's award for best musical) at the Young Vic & on tour-2008
Presteigne Festival Orchestra
London Gala Orchestra
Bath Philharmonia
Brandenburg Sinfonia (Bob Porter)
Royal Ballet Sinfonia (Birmingham Royal Ballet).
West End/Commercial

Member and co-leader Phantom of the Opera (West End - Original Production)
Deputy Leader Marguerite (West End)
Deputy Leader Oliver (on tour)
Cool Music (Gareth Griffiths)
Accord Music (Maurice Cambridge)
Music Solutions (Sylvia Addison)
John Wilson Orchestra
Solo/Chamber/Conducting

Haydn and Martinu's Sinfonia Concertantes on tour with the Orquestra Nacional do Porto in November 2009.
Conducting debut with SGCO in October 2008- last minute stand-in for a performance of Copland's Clarinet Concerto with Jon Carnac. Full conducting debut in May 2011.
Recent solo performances included Mozart's Sinfonia Concertante with Edward Vanderspar, Mozart violin concerto in A and Beethoven's violin concerto with St George's Chamber Orchestra, and recitals on the violin, viola and piano.
CD for Persephone Books in 2000 broadcast by Radio 3 & Classic FM, described by Classic FM magazine as 'playing of grace and zest'. All 2000 CDs sold.
Hogarth String Quartet (Andrew Haveron, Jessamy Boyd & Andrew Skrimshire) 1997-9; Wigmore Hall Recital 1999; Winner of South East Arts (SEMS).
Violist in SGCO String Quartet.

Studies

Scholar at Royal College of Music with Itzhak Rashkovsky. Piano joint 1st study
Top Music Scholar at Winchester College: 86-91.Member of Pro Corda: 81-91
Awards

Countess of Munster 90 & 95, Ian Fleming, Worshipful Company of Musicians
Orchestral Leadership, Montgomerie, Hirsch, Menges and Dove prizes at RCM
Unanimous Winner, Northern Region of BBC Young Musician of the Year 199

2
The information contained in this CV is provided by the client of MAS.
MAS takes no responsibility for its accuracy.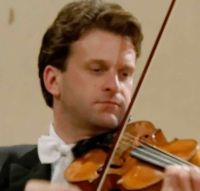 Instruments
Violin, Violin & Viola