Book this PlayerBack to Search
Pauline Lowbury
Violin
ARCM, Dip Juilliard
Solo
Recitals: Wigmore Hall, Purcell Room, St John's, Smith Square, Manchester Midday
Radio 3 live broadcasts, studio recordings
Solo appearances at Royal Festival Hall, Queen Elizabeth Hall, Birmingham Symphony Hall, Bridgewater Hall, venues throughout UK and Europe
Concertos with English Chamber Orchestra, City of Birmingham Symphony Orchestra, Ulster Orchestra, Academy of London, Britten Sinfonia
Premieres of sonatas written for her by Robert Simpson and Matthew Taylor
Orchestral work
Britten Sinfonia, leader 1992-2004
English Chamber Orchestra, associate leader (no 2 plus some leading) 2004-2010
Academy of London, leader 1991-1994
Guest leading:-
London Philharmonic Orchestra, ECO, CBSO, BBC Scottish, BBC Concert Orchestra, Ulster Orchestra, Bournemouth Symphony, Royal Ballet, New London Orchestra, City of London Sinfonia, Orchestra of the Swan, Orchestra da Camera, Sinfonia Verdi, Brompton Oratory, Rambert Dance, British Philharmonic

Session work

Colin Sheen, George Hamer, Tonia Davall, Peter Willison, UK Orchestras, LMO, Gavyn Wright, Isobel Griffiths, Paul Wing, Levine Andrade, Cool Music, Buick, Nat Peck, David Mitcham, Raymond Cohen, Brodsky Quartet, Paul Spong, Doina, English Session Orchestra
Chamber Music
Lowbury Piano Trio
English Horn Trio - with Richard Watkins
Clarinet Trio with Sarah Williamson and Margaret Fingerhut
Nash Ensemble - London concerts, tours, broadcasts, recordings
Endymion Ensemble, SCO Ensemble - guest leader
ECO Ensemble
Britten Sinfonia Ensemble
London Concertante Ensemble
Recordings

Vaughan Williams The Lark Ascending with Britten Sinfonia (BMG Conifer)
Robert Simpson Violin Sonata, Piano Trio (Hyperion)
Robert Simpson Horn Trio, Horn Quartet (Hyperion)
Matthew Taylor Piano Trio (Toccata)
Bach Brandenburg Concerto No 2, Consort of London, (Collins Classics)
Rawsthorne Theme and Variations for Two Violins (Redcliffe Records)
Martinu Flute Trios, Feinstein Ensemble (Naxos)
Orchestral solos include:- Britten Sinfonietta, James MacMillan Seven Last Words,York
Bowen Symphonic Fantasia
Press

"A solo violinist with an exceptionally cultivated purity of sound and a technique that made light of the Violin Concerto's difficulties." 
(Beethoven Concerto)  
THE TIMES
"Beethoven's wonderful 'Spring' Sonata was given a performance that was eloquent and of great musical sensibility..Delius's Sonata No 2 was played with a fluency and an unusual refinement of phrasing. Miss Lowbury's performance of Kreisler's Recitativo and Scherzo-Caprice for solo violin was distinguished by formidable technical mastery at the service of a highly cultivated musical intelligence." 

DAILY TELEGRAPH
"Lowbury's performance was finely engineered. Her individualistic sound quality, tinged with a characterful huskiness, compelled attention." (1st performance, Simpson Sonata)

THE TIMES.
"the solo line unfolded magnificently." (Bach A minor Concerto)

RHEIN-NECKAR ZEITUNG
"Her performance of the Mendelssohn Concerto never strained for effect , but combined formidable technical command with charm and elegant phrasing."
BIRMINGHAM EVENING MAIL
"some of the smoothest and most articulate triple stopping I have heard from a curved bridge and modern bow."
(Bach C major Solo Sonata) 
THE STRAD
"outstanding musical gifts" HI-FI NEWS

Concerto repertoire:- Bach Concertos & Brandenburg Concertos, Barber, Beethoven (Concerto, Triple Concerto), Berg, Brahms (Concerto, Double Concerto), Bruch 1, 2 & Scottish Fantasy, James Francis Brown Trio Concertante, Dvorak, Elgar, Glazunov, Haydn Sinfonia Concertante, Aaron Jay Kernis Concerto for Violin and Guitar, Gordon Jacob, Lalo Symphonie Espagnole, Maxwell Davies Strathclyde Concerto No 5, Mendelssohn 1 & 2, Moeran, Mozart (Concertos, Sinfonia Concertante), Paul Patterson, Saint Saens No 3 & Rondo Capriccioso, Schubert Rondo, Sibelius, Tchaikovsky, Vaughan Williams The Lark Ascending, Vivaldi Four Seasons, Vieuxtemps No 5, Wieniawski No 2
Scholarships, Awards

National Finalist Shell LSO Competition
Caird Scholarship, Munster Trust Scholarship, Max Mossell Scholarship
RCM Dove Prize, Stoutzker Prize, Percy Coates Award
Juilliard Scholarship
Study
Royal College of Music, Juilliard School New York
Teachers:- Carl Pini, Ivan Galamian, Margaret Pardee, Ernest Element, Carmel Kaine, Frederick Grinke, Samuel Rhodes, William Lincer
Masterclasses:- Ida Haendel, Max Rostal
Teaching, coaching

University of West London
Pro Corda
Grittleton Chamber Music Course
Examining, Adjudication
Trinity College
RCM Junior College

The information contained in this CV is provided by the client of MAS.
MAS takes no responsibility for its accuracy.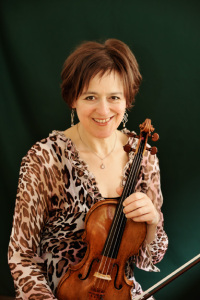 Instruments
Violin