Book this PlayerBack to Search
Zami Jalil
Viola
PROFESSIONAL ORCHESTRAL
Chineke! Orchestra (Viola)
Opera de Bauge (Principal Viola and Tutti violins)
St Paul's Sinfonia  (Principal Viola and Tutti Violins)
Kent Sinfonia (Co Principal Viola and Tutti Violins)
Orpheus Sinfonia (Co - Leader Viola)
New London Orchestra (Co-Principal viola)
London ARTE Orchestra
London Firebird Orchestra
Sinfonia Cymru
Dartington Festival Orchestra
Opera Nova
Orchestra Vitae
Putney Choral Society (Principal Viola)
Canterbury Choral Society
London Choral Sinfonia
RECORDING / SESSION WORK
Parallax Orchestra  (Principal Viola)
Chineke! Orchestra at Royal Festival Hall – Signum Classics
Commenwealth Cantata – Recording at Abbey Road
St Paul's Sinfonia (2nd Violin) – Recording at Abbey Road
Wretch 32 – Studio Recording Session for track - Don't Let Go; Ministry of Sound / Sony Music (Violin and Viola)
Urban Soul Orchestra
Arijit Singh (Bollywood) Concerts in Dubai and Wembley Arena
EDUCATION WORK
Chineke! Orchestra – mentoring the junior orchestra
St Paul's Sinfonia – workshops
 TRAINING EXPERIENCE
Britten Pears Orchestra (Viola and Violin)
London College of Music String Ensemble (Principal Viola)
Young Musicians Symphony Orchestra ( Principal Viola and Co – leader positions) 
 SOLO/CHAMBER
Recital at Chelsea Arts Club with Aralt Quartet
Participation in Chamber Studio scheme at Kings Place with Richard Ireland
Harold in Italy (Viola) – London Charity Orchestra, St James's  Piccadilly
Sinfonia Concertante Mozart (Viola) – Chamber Academy Orchestra & London College of Music String Ensemble
Chamber Music Gala Performances with the Primrose Piano Quartet. Playing Viola in Brahms Sextets (G Major and Bflat Major), Mendelssohn Octet and Schoenberg Verklärte Nacht alongside Susanne Stanzeleit, Robin Ireland and Bernard Gregor Smith.
EDUCATION
Licentiate in Royal Schools of Music  (ABRSM) diploma in Violin Performance
London College of Music – Associate Student (2005 – 2009)

Professors: Viola – Susie Mészàros and Robin Ireland; Violin – Susanne Stanzeleit.

University of York – BEng (Hons) – Professor: Clare Barwick (Viola, Baroque Viola)
REFEREES
Susie Mészàros – Viola player –Chillingarian Quartet 
Susanne Stanzeleit – Primrose Piano Quartet (leader)
The information contained in this CV is provided by the client of MAS.
MAS takes no responsibility for its accuracy.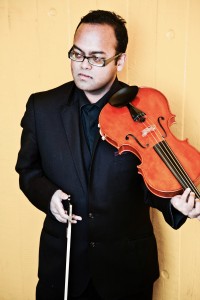 Instruments
Viola, Violin, Violin & Viola