Book this PlayerBack to Search
Adam Hill
Violin
Professional Orchestral

City of Birmingham Symphony Orchestra
English National Ballet
Birmingham Royal Ballet
Hallé
English Symphony Orchestra
London Concert Orchestra
Manchester Camerata
British Philharmonic Concert Orchestra
Talich Chamber Orchestra, Czech Republic
Cape Town Philharmonic Orchestra
Apollo Chamber Orchestra
Novello Orchestra
Southern Sinfonia
Sinfonia Cymru
Sinfonia of Birmingham – Leader
Professional Orchestra Tours

CBSO - Germany (July 2017), Dublin and Lucerne Festival (August 2017) Germany and Belgium (November 2017) Germany, Austria, Hungary and The Netherlands (March 2018), Dortmund and Lucerne Festival (September 2018), Germany (December 2018)
Session Work

London Telefilmonic Orchestra, Baxter Dury, Orchestrate – Howards End, Troy.
Orchestral Training

City of Birmingham Symphony Orchestra Diploma in Orchestral Performance (2014 – 2015) Tutti 1st Violin
Hallé –  Trial for Hallé leadership scheme (2015)
Orpheus Sinfonia, London Orchestra Project
Chamber Music

12 Ensemble – Montreux Jazz festival
Evropska Quartet – 2nd violin and founder member

Recitals and concerts across Europe, including performances at the International Liszt festival and 'Concerts in the West' concert series and study in Basel and Amsterdam
Quartet in residence and chamber music tutor at Concorda chamber music course, Ireland


Evropska Violin Duo – 'Live Music Now' scheme
Solo
Ravel Tzigane and Korngold Violin Concerto – Whitehall Orchestra
Vaughan Williams 'Lark Ascending' – Dorset Chamber Orchestra
Education and Qualifications
Birmingham Conservatoire – Postgraduate Diploma in Orchestral Performance (2014 – 2015)
Netherlands String Quartet Academy – studying with Marc Danel  (2011 – 2012)
Basel Hochschule fur Musik – Graduate course in chamber music, studying with Rainer Schmidt (2011 – 2012)
Royal Northern College of Music – Postgraduate Diploma in Performance (2008 – 2009)
University of Birmingham – Bachelor of Music (2003 – 2007)
The information contained in this CV is provided by the client of MAS.
MAS takes no responsibility for its accuracy.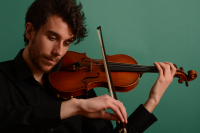 Instruments
Violin