Book this PlayerBack to Search
Jonny Gee
Double Bass

BMus(Hons)
A versatile bassist with an interest in small ensembles:
baroque / opera / jazz / world / chamber music
& film/TV session work
           
website  www.JonnyGee.co.uk
+ Rehearsal studio in Archway (max.18 players)
Guildhall: visiting professor (chamber music coach) for Junior Strings

Professional experience includes:

Classical:

Britten Sinfonia (guest principal)
National Symphony Orchestra (guest principal)
Royal Philharmonic Concert Orchestra (extra)
Royal Opera House (Walker Dance tour, deps)
English Touring Opera (principal for tours inc.Turn of the Screw, Ariodante)
The Contemporary Music Group (Diego Masson)
Southern Sinfonia (Sir Roger Norrington+David Hill, guest principal 2009-2015)
City Of Birmingham Concert Orchestra
Pimlico Opera tours


Baroque:

The Sixteen
CBSO (dep)
London Handel Orchestra
Brandenburg Baroque Soloists
Chameleon Baroque
Canzona
Brook Street Band



World Music/Latin:

Ravi Shankar (Sanmelan)
King Salsa (2007-present)
La Mariposa Tango (1998-present)
Antonio Forcione Quartet (associate deputy 2005-present)



Chamber Music:

ZUM (1999-2005)
The Chamber Music Company (since 1998)
Kosmos Ensemble Tour 2007
Rossi Quartet (quintets)
Carducci Quartet (quintet work)
IMS Prussia Cove 1993 (Autumn)



Jazz:

Jacqui Dankworth & Jim Mullen
Orphy Robinson MBE (in Jonny's quartet "Ping Machine")
Ruthie Culver (incl.Radio 3 live & recorded broadcasts)
Blue Harlem & Latin Underground
Pete Long's Goodmen Orchestra
The Piccadilly Dance Orchestra (chair)
Tornado Rosenberg & Lollo Meier
The Jazzberries
West Side Story (Pimlico Opera)
Seven Brides for Seven Brothers
lots of Sondheim + G&S etc.
TV / films/Sessions

: Jonny has featured on over 50 CD releases (classical, jazz, salsa, tango, world-fusion, singer-songwriter & prog rock) including:

Michael Csany-Wills (1 bass only, check out track 2 The Siege): https://toccataclassics.com/product/michael-csanyi-wills-songs-with-orchestra/
Hilary Skewes sessions incl.2018 Vivaldi Jaguar E-Pace TV ad: http://www.sounds-familiar.info/2018/02/jaguar-e-pace/
How Music Works (Howard Goodall, Channel 4)
Henry VIII (Phil Sheppard, Channel 4)
Green Fingers (Helen Mirren/Clive Owen feature film 2000; live music coach)
The Beggar Bride (BBC2 Keeley Hawes 1997)
The Broker's Man (BBC2 Kevin Whately 1998; MD & live music coach)


 Pop/Other:                     

Radio 2 singer-songwriter: Sara Spade & The Noisy Boys (since 2012)
Live appearances 2009 & 2010 in "A Bad Idea" with Sir Brian May, Sir Roger Paltry, Roger Taylor & Ben Elton
Musical Director for Heineken's award-winning TV commercial "The Date" 2011
Hayley Westenra (Far East Tour 2010)
Joanna Eden SuperGroup (since 2008)
Kelly Dickson & MamaFeelGood (deputy 2008-present)
Sophie Solomon (Universal debut tour 2005-06)
Nigel Burch & The Flea-Pit Orchestra (2002)
A Bad Idea - with Queen drummer Roger Taylor (2009-10)

Education (1990-96):      
1994-96: Trinity College of Music
Baroque+modern studies with Chi-Chi Nwanoku 1994-95

Archer Jazz Scholarship 1995-96
1991-94: Royal Holloway University of London
(BMus, University of London+Choral Scholarship)
& Copenhagen University / Danish Royal Conservatory
(1 year ERASMUS scholarship to study with Mette Hanskov, 1992-93)
The information contained in this CV is provided by the client of MAS.
MAS takes no responsibility for its accuracy.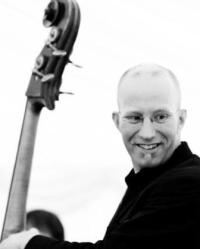 Instruments
Double Bass, Baroque Double Bass, Bass Guitar