Book this PlayerBack to Search
David Cuthbert
Flute
CV
Orchestras
Guest Principal Flute
Academy of St Martins in the Field                 
London Sinfonietta                  
Royal Philharmonic Concert Orchestra            
London Concert Orchestra                          
Royal Northern Sinfonia                      
Royal Liverpool Philharmonic Orchestra        
Symphony Orchestra of India    

2nd Flute and Piccolo                
BBC Symphony Orchestra             
Bournemouth Symphony Orchestra       
City of London Sinfonia
                     
Ballet and Opera
Guest Principal Flute
Birmingham Royal Ballet                     
Matthew Bourne Ballet                              
Longborough Festival Opera                 
West Green Opera

2nd Flute and Piccolo        
Garsington Opera                     
Welsh National Opera               
English Touring Opera

Sessions
Isobel Griffiths                             
English Session Orchestra                
Music Creation Ltd
    
Theatre – London West End Depping
The Lion King                             
Les Miserables The Staged Concert                  
Wicked - Associate                       

Education and Qualifications
Royal Academy of MusicLondon              
Bmus Hons (Performance)       
Postgraduate Performance Diploma    

 


Britten Sinfonia   
Royal Philharmonic Orchestra
BBC Concert Orchestra
London Mozart Players
BBC National Orchestra of Wales
RTE Concert Orchestra                                                   



London Philharmonic Orchestra                                         
London Chamber Orchestra                      




Northern Ballet 
Opera North
Nevill Holt Opera 



English National Opera 
Scottish Opera



COOL Music Ltd 
Hilary Skewes Ltd 



Mary Poppins 
Les Miserables
Phantom of The Opera


 
1st Class       1997-2001
Distinction    2001-2002

Awards and Prizes
Royal Overseas League Wind Chamber Music Section Winner with Camarilla Ensemble   
Royal Academy of Music All Flutes Plus Flute Competition               
Royal Overseas League Woodwind Finalist                       
Royal Academy of Music Chris Taylor Flute Award                   
Harold Craxton Chamber Music Prize (RAM)                       
Camarilla Ensemble Junior Leverhume Chamber Music Fellowship – RAM
 
2008
2000
2006
2002
2002
2003-2005           

Education and Outreach
Britten Sinfonia
Britten Sinfonia Academy
 
London Sinfonietta                   

Professors
Michael Cox, Jaime Martin, Sebastian Bell, Kate Hill, David Nicholson, Helen Brew, Rachel Forgieve, Keith Bragg.

Masterclasses and lessons
WIBB, Paul Edmund Davies, Robert Winn, Julius Baker, Jim Walker, Carol Winsenc, Jeffrey Kahner, Toke Lund Christiansen.

Films/TV/Commercials/Pop
Principal / Solo Flute
From the Land of the Moon            
A Cure for Wellness              
GOLD                       
Loving Vincent                   
Ghost in the Shell               
That Good Night               
Kaatru Veliyidai                   
The Christmasaurus               
All The Money in the World           
Waitrose Christmas Ad Campaign      
A Call to Adventure               
Spitfire Audio                  

Flute/Piccolo/Alto Flute/Bass Flute
James Bond – 'No Time To Die'          
Little Men                   
M&S Christmas Ad Campaign           
Apple Ad Campaign               
2.0 Bollywood Blockbuster           
Shazam                       
UAE Special Olympics TV           
Roubaix une Lumiere               
Spitfire Audio                   
EMI Music Production               
Fear Street 1978               
Jonny Halliday                  
COORS Advert                    
BBC 'One Show' with Seal           

Teaching Positions
Trinity LABAN Junior Department
Sevenoaks School               
London Oratory    School               

 

L'Ami
Viceroys House
Noufrage Volontaire
La Sage Femme
Emerald City 10 part TV Series
Felt
Ratburger
The Snowman
VERY Christmas Ad Campaign
The Aftermath
Grandpa's Great Escape
Julia


Avengers:Endgame
Sainsburys Christmas Ad Campaign
Speer Goes to Holywood
VERY Christmas Ad Campaign
'The Bay' ITV Series
Dumbo
Death on the Nile
Shaun the Sheep 2: Farmageddon
Audio Network
Fear Street 1994
Fear Street 1666
A Boy Called Christmas
Gary Barlow no 1 album 'Music Played by Humans'



Godolphin and Latymer
Cardinal Vaughan Memorial School
The information contained in this CV is provided by the client of MAS.
MAS takes no responsibility for its accuracy.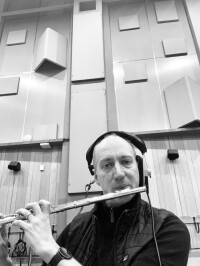 Instruments
Flute, Alto Flute, Bass Flute, Ethnic Flutes, Pan Pipes, Piccolo