Book this PlayerBack to Search
Elizabeth Cooney
Violin
ORCHESTRAL WORK

Guest Leading
Welsh National Opera

Aurora Orchestra

RTÉ Concert Orchestra

Oxford Philharmonia

English Chamber Orchestra
The Arensky Chamber Orchestra
The Blackwater Opera Festival Orchestra

Guest Co Leading/Principal

Royal Philharmonic Orchestra


English Chamber Orchestra

Northern Sinfonia

BBC National Orchestra of Wales

Scottish Chamber Orchestra

Aurora Orchestra

The Dmitri Ensemble

RPCO Elvis UK Tour - co leader 2016 and 2017
Senbla Concert Orchestra co leader (Burt Bacharach UK Tour 2016, 2017 and RFH 2018) and Joss Stone at RFH 2017 and 2018.

SESSION WORK

Isobel Griffiths

COOL Music

Hilary Skewes
English Chamber Orchestra


The John Wilson Orchestra

London Symphony Orchestra
SOLO WORK

Performed as soloist with
The Ulster Orchestra (Mozart Concerto broadcast for BBC Radio 3)

RTE National Symphony Orchestra of Ireland (including tour, radio and TV)

Music Vitae Chamber Orchestra, Sweden

Liszt Chamber Orchestra of Hungary

Slovenian Philharmonic

RTE Concert Orchestra

Welsh National Opera

James Horner Memorial Concert at the Royal Albert Hall. Solo violin with orchestra for film score of 'Iris' 2017
Performed Concerti and Recitals in
Royal Festival Hall, London

Wigmore Hall, London

Purcell Room, London

Victoria Hall, Geneva

Weill Hall at Carnegie, New York
CHAMBER MUSIC

Collaborations with John O'Conor, Cristina Ortiz, Finghin Collins, Guy Johnston, Helena Wood, Marc Coppey

Chamber Music Festivals - Musica Nova, Brazil; Canterbury; Edinburgh Fringe; West Cork Chamber Music Festival, Ireland; Bristol Proms (string octet supporting Lisa Batiashvili); Sion-Valais Festival, Switzerland
TEACHING
Violin Teacher at Bedales School, Hampshire

EDUCATION
RCM, London 2001-2003 - Mills Williams Junior Fellow & Phoebe Benham Junior Fellow

RCM, London 2001-2003 - PG Dip. (1st Class Hons)

RCM, London 1997-2001 - B Mus. (1st Class Hons)
Professors: Itzhak Rashkovsky, Adrian Petcu.
Referees: Itzhak Rashkovsy, Rodney Friend, Finghin Collins
The information contained in this CV is provided by the client of MAS.
MAS takes no responsibility for its accuracy.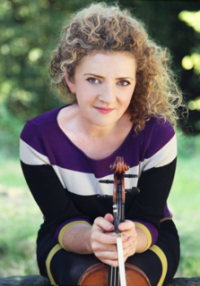 Instruments
Violin, Irish Folk Fiddle
Ensembles
Dorette Violin and Harp Duo