Book this PlayerBack to Search
Lizzie Ball
Violin
Leader Orchestra of Life

(founded and directed by Nigel Kennedy) 2010-present

BBC Proms 2013 with Palestine Strings (broadcast live on BBC Radio 3, BBC Four TV)

Recordings (Vivaldi's Four Seasons rewrite for Sony Classical to be released)

Several UK/European tours in major classical venues (including Berlin Philharmonie/ Barbican/RFH/)

Leader Arts Symphonic Orchestra

(directed by Robert Emery)

Recordings (leader and featured for 'Anthems' Sony Classical)

UK touring

Various sessions (Russell Watson, Carly Paoli)
Britten Sinfonia

 

Philharmonia Orchestra

Oxford Philharmonic Orchestra - on Trial for Principal 2nd Violin 

London Chamber Orchestra

 

Orion Orchestra - leader

Manning Camarata - principal

Brunel Ensemble

London Concertante

Brandenburg Sinfonia
Isobel Griffiths Ltd

Michael Nyman Band

Hilary Skewes Ltd (Roberto Alagna, various film scores)

Wired Strings/Rosie Danvers (Rod Stewart, Enya, Paul Weller, Meatloaf, Emily Sande)

Paul Spong/Steve Sidwell (various film scores)

Face Music (Kanye West, Simply Red tour, various TV shows)

Orion Orchestra with Rick Wakeman –orchestral leader for re-record of Journey to the Centre of the Earth

X Factor Live Shows

MTA Records/Productions (techno improvised sessions)

Omara Portuondo UK tour including improvisation
Regular classical/jazz Duo with James Pearson (Artistic Director and pianist of Ronnie Scott's Jazz Club)

Endymion Ensemble (concerts, recitals, including BBC Proms 2014)

Machaca (directed by guitarist Morgan Szymanski, with ODuo and Gemma Rosefield) work included Wigmore Hall, Mexican touring, various UK festivals)

Eclectica (own group of classical/crossover, recitals in festivals, Wigmore Hall etc)

Duo concerts with double bassist Leon Bosch, violinist Elizabeth Cooney, cellist Gabriella Swallow , pianist Christina Mcmaster, in various UK festivals/venues also overseas.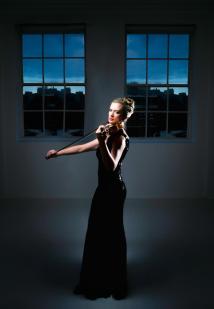 Soloist with Nigel Kennedy

Vivaldi Double Concerto in C accompanied by Nigel's Orchestra of Life (Royal Albert Hall, Birmingham Symphony Hall, Bridgewater Hall -2010)

Jeff Beck Band featured band member

(2012-2013)

Appearances at Madison Square Garden for Eric Clapton's Crossroads Festival 2013

DVD/Audio recordings (Rhino Records)

2013 US Tour with Jeff Beck and Brian Wilson

(I also performed as featured vocalist with both bands)

Lizzie Ball/Classical Kicks

http://www.classicalkicks.com/

Tours /Festivals with Sam Burgess (bass), James Pearson (piano), Nicolas Meier (guitar), Pedro Segundo (drums) in Brazil, Spain, Buxton/Beaminster/Bath/Henley Festivals.

Residency at Ronnie Scotts upstairs venue

Concert series at St.James Theatre Victoria. Record Label.
As featured guest (violinist/vocalist) with Ronnie Scotts All Stars in Ronnie Scotts main room as support act to Chuco Valdes, Airto Moreira.

Classical Kicks (Lizzie's own classical fusion brand held as a quarterly residency in Ronnie's Bar upstairs at Ronnie Scotts, also appeared on BBC Radio 3 In Tune, Henley Festival, and regular concert series at St.James Theatre, Victoria)

Gilad Atzmon (jazz saxophonist, lead violin in Charlie Parker with Strings project)

Sir John Dankworth/Cleo Laine (Gershwin concert Ronnie Scotts/Music in the Garden in Wavendon)

lead violin

for BBC Radio 2 Children in Need at the Savoy concert for Dionne Warwick
Soloist Philharmonia Orchestra Children's Concert Abu Dhabi

BVs for Tom Robinson 60th Birthday Concert (a "Save BBC 6 Music" event at Shepherds Bush Empire)

Brian Wilson Band as vocalist (both featured and BVs) with Brian Wilson Band on US Tour
1999-2002 St.John's College , Cambridge. MA in Music (2:1)

2002-2004 Royal College of Music. Postgraduate Diploma in Performance (Yossi Zivoni)

2007-2008 Guildhall School of Music Postgraduate Diploma in Performance (David Takeno)
James Pearson Artistic Director Ronnie Scotts Jazz Club

Nigel Kennedy

Kevin Hathway Head of Percussion at Purcell School of Music
The information contained in this CV is provided by the client of MAS.
MAS takes no responsibility for its accuracy.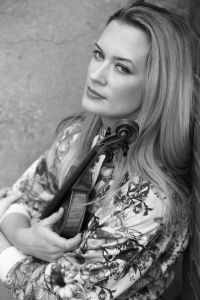 Instruments
Violin, 5 String Electric Violin, Mezzo-soprano voice, Voice