Book this PlayerBack to Search
Anne Allen
Flute
M.A.Cantab,    PG Dip. RNCM (dist.)
website

'Anne Allen… played the flute with sweet clarity every night'
The Times
Anne had a profound impact on flute players and audiences alike. What has also always struck me about her flute playing is that she does not seem to have any technical problems that stand in the way of her natural, flowing style... inspiring talent...
Wissam Boustany, International Soloist

A joy to listen to. Clear and clean solos and bravura cadenzas... a delightful performance, with an experienced soloist.
Bridport Newspaper review, Mozart Concerto in D

Anne brought joy and calmness to the ward. An amazing performance.
The Princess Royal Hospital

Anne Allen is an extremely talented young flautist. Her performance was exemplary...she has a beautiful natural tone, but also a strong sense of colour and characterization.
Roger Vignoles, International Pianist

Their undoubted talents...springs into life with its optimism and freshness.' 'A beautiful interpretation...which perfectly illustrates their artistry and command. Superb.
Musician, Magazine of the Musicians' Union

From the beginning Anne was professional and helped me choose the perfect pieces to help make our day so special. She played so beautifully and I was amazed how she made the flute fill the church with harmony and serenaded us all. I recommend Anne most highly to anyone who is planning such an important ceremony.
Mr and Mrs Ewing.

...the playing had great delicacy and poise... beautifully executed... considerable range of tone colours. The advanced techniques required in the flute part were managed successfully and both players conveyed the spirit of the piece and their own enjoyment of it.
Pan, (The British Flute Society Magazine).

This was the best concert I ever heard in this house" was stated independently by two members who have been coming for more than 30 years. Thankyou Anne and Chris.
Udo Bauer, Secretary, Schubert Society of Britain.

A brilliant display of technique and musicianship...theirs is a duo par excellence... They communicated the love of the music so readily.
Anthony Pither - Concerts in the West review 2008

Just a very quick line to thank you both for giving such a wonderful recital yesterday – it was very well received by everyone who was there. Just perfect! I have huge admiration for you both – you have achieved so much and deserve all the success in the world.
Gill Seaton (Eaton Concert series)

Highest praise must go, for sheer delight and effervescence, to the Ancora Duo.  Flautist Anne Allen's dreamy tone and guitarist Sarah Freestone's positive playing made for a delightful evening of arrangements and well-researched hidden treasures.
ANTHONY PITHER concerts in the west


Since graduating from Cambridge and RNCM (with Distinction) Anne has had a wide range of performing experience as an orchestral musician and soloist. Having overcome serious illness several years ago, Anne has emerged out of this experience with skills and strengths that have enriched her playing.

FREELANCE ORCHESTRAL WORK

TRIALS: English National Ballet - Trial: Principal Flute
              BBC National Orchestra of Wales - Trial: Sub-Principal Flute

BBC Philharmonic Orchestra
Bournemouth Symphony Orchestra
Britten Sinfonia
10:10
Multi Storey Orchestra

London Concert Orchestra (R. Gubbay)
Brandenburg Sinfonia (Bob Porter)
Vox Vanguard

Northern Chamber Orchestra                  
English National Orchestra - (e.g. tours
with Katherine Jenkins)
New English Concert Orchestra (Phil Head)

London Classical Soloists

Bath Philharmonia
Haverhill Sinfonia                                 
Southern Sinfonia
Philharmonia Concert Orchestra
National Symphony Orchestra
London Concertante

London Soloists Chamber Orchestra      
Belmont Ensemble
London Festival Orchestra
Thames Festival Orchestra                      
South Bank Sinfonia      
Britten-Pears Orchestra
Anne is principal flute of Philharmonic Chamber Orchestra of London & Vox Vanguard
Anne is also on extra lists for BBC Concert Orchestra, Hallé, RLPO, Birmingham Royal Ballet, Scottish Ballet, WNO

THEATRE WORK
Royal Opera House  -  Linbury Theatre
European Chamber Opera
Stage show of We Will Rock You
Opera UK
Opera Brava                                      
Bampton Classical Opera                        
Cambridge Arts Trust                            
Pavilion Opera
Pegasus Opera

Hackney Empire productions
London Festival Opera

The Big Little Theatre Company 
Stray Dogs Theatre Company                 
Britten-Pears Opera                   
British Youth Opera
The Snowman tour
CONCERTO PERFORMANCES WITH ORCHESTRA
BBC Concert Orchestra


Southbank Sinfonia
London Soloists Chamber Orchestra
For the International Olympic Committee, Singapore 

Bampton Classical Opera
Gli Amici della Musica
Bridport Chamber Orchestra
Cambridge University Symphony Orchestra
Bournemouth Rehearsal Orchestra
New Hall Orchestra
Chatsworth Ensemble
The Parry Strings

Tapestry Chamber Orchestra

Enesco Cantabile et Presto, Gossec Tambourin,
Flight of the Bumble Bee (Queen Elizabeth Hall)
Frank Martin Ballade, (Cadogan Hall, London)
Telemann Flute Concerto (St Martin in the Fields)
Haydn Flute Concerto

Bach Suite in B minor
Martin Ballade
Mozart Flute Concerto in D
Mozart Flute Concerto in D
Hüe Fantaisie,  Mozart Concertos in G&D
Chaminade Concertino
Mozart Flute & Harp Concerto
Chaminade Concertino
Bach Brandenburg Concerto No.5
Bach Brandenburg 5, Suite in B - Telemann Concerto


SOLO RECORDINGS
The Romantic Flute (2016)
Entrada (2009)
The Relaxing Flute (2007)
Duologue (2003)
Gentle Dreams (2001)

Recorded at Air Studios
The Ancora Duo: Flute and guitar music inc. Piazzolla, Ibert, Faure, Bach, Saint-Saens, Elgar, Gershwin etc.
Reinecke, Czerny, Telemann, Donizetti etc.
Burton, Poulenc, Faure, Rutter etc.

OTHER SOLO WORK

Corporate & private events



Solo Recitals



Brightlingsea Music Festival

Cruise Entertainment
Ancora Duo




Music in Hospitals Charity


Tanglin Trust Singapore

Guest coach, Wessex Youth Orchestra
TV Extra work as a musician including Midsummer Murders!

BBC Radio/TV, Classic FM, Soundtracks, CDs with London Telefilmonic Orchestra etc. incl. sessions for Mike Batt, Spitfire Sampling etc & BAFTA award winning film 'The Moo Moo Man'
inc. playing for Members of the Royal family, Sting, David & Victoria Beckham, Tony & Cherie Blair, The Ronald Reagan Presidential Foundation
Flute and Piano duo recitals across the UK
inc. Schubert Society of Great Britain
Blackheath Young Artist
Headline 2011, featured soloist, 2010
for Cunard, Carnival, Swan Hellenic, Saga, Fred Olsen
Flute and Guitar duo with Sarah Freestone
www.ancoraduo.com
inc. recitals & performances at The Troubadour, Lord Snowdon's 80th birthday, for the Romanian Ambassador
Recitals/workshops in hospices, terminal wards, care homes
Guest soloist and workshop leader 2005




PRESS AND RADIO COVERAGE

Newspaper articles & reviews inc. Sunday Telegraph, Times, Daily Mail
Article published in Pan Magazine Spring 2017 on Goal Setting

Interviews inc. Classic FM, Radio 3, Radio Solent, 2CR BBC Radio, Cambridge Radio
BBC Classical Music magazine, front cover CD Nov. 2003
Musician's Union magazine Musician, Album of the Month CD review, 2009
British Flute Society Pan magazine, concert feature, CD reviews

MUSO Magazine, feature
Oldie Magazine, feature
E

DUCATION & COMPETITIONS
Postgrad Diploma in Professional Performance (Distinction)
Honours Degree in Music

Master Practitioner of Neuro-linguistic Programming

Certified Level 3 Personal Trainer

(BSc in Psychology – part-time
Royal Northern College of Music
Cambridge University




Birkbeck College, University of London)

Gold Prize, Computers In Personnel International Concerto Competition
Winner, Blackheath Young Artists' Platform Competition   
Finalist, Radio 2 Young Musician
Winner, Norfolk Young Musician of the Year
Finalist, Eastbourne Young Musician finalist
The information contained in this CV is provided by the client of MAS.
MAS takes no responsibility for its accuracy.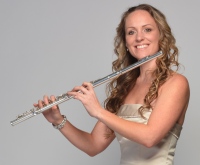 Instruments
Flute, Alto Flute, Piccolo
Ensembles
Ancora Duo