St. Oswalds' Music Festival
Monday 2nd August 2021
Thursday 5 August 7:00pm in church. The Galant Baroque Lute of Andrew Maginley
St Oswalds' Music Festival
Thursday 5 August 7:00pm in church
The Galant Baroque Lute of Andrew Maginley.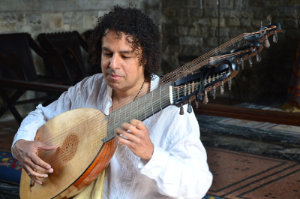 A selection of 18th Century pieces.

Andrew Maginley is the foremost professional black classical lute player in modern history. He specialises in lutes and early guitars and is a champion of the 18th-century baroque lute. This is a rare opportunity to hear this fascinating instrument. http://andrewmaginleyart.com/
During the interval a glass of Pimms, a beer or soft drink is provided and included in the ticket price of £15.

Under 18's are free, but places should be reserved through our contact page (https://www.stoswalds.org.uk/contact-us/st-oswalds-music-festival-enquiries.php).  

To book for this event, please click on the ticket below.

Note that this will not generate a physical ticket. Please bring your booking confirmation or payment receipt in paper or digital form as evidence of payment.

Click here for ticket