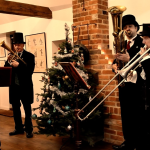 Queen Victoria's Consort - Fundraising for Care Homes
Thursday 19th November 2020
Queen Victoria's Consort is an ensemble of the country's leading performers on historical brass instruments. The ensemble has played at Buckingham Palace, Alexandra Palace, Lincoln Castle and Cambridge University, in addition to performing at events for Transport for London, London Transport Museum and English Heritage, along with private functions and concerts.

The instruments we play are some of the finest surviving original examples made in the 19th century and by famous makers such as Adolphe Sax.

As well as performing original Victorian music by various composers (Sullivan, Mendelssohn), we also play music written by Prince Albert and have had new arrangements commissioned in the 19th century style.

As all musicians are aware, Covid-19 has affected all public performances, and made many institutions and venues nervous to put on live music. We therefore decided to fundraise in order to record and edit concerts that can then be sent for free to an infinite number of care homes and hospitals. We have the support of a leading consultant psychiatrist and Dementia specialist, Dr Benjamin Underwood.

Each concert costs £2500 to record and edit and over the course of a year we would love to record four different programmes.

Once these are shared with venues they can be viewed as many times as desired and family members could also join via Zoom as a 'watch party'. Care homes have been hit especially hard by the pandemic, with many residents feeling lonely and visiting heavily restricted.
To donate click here