Ensembles Directory
Quintabile
Website – www.quintabile.com
Stephen Peneycad – Trumpet
Sam Kinrade – Trumpet
Emily Allen – Horn
Katherine Hart – Trombone
Edd Leech – Tuba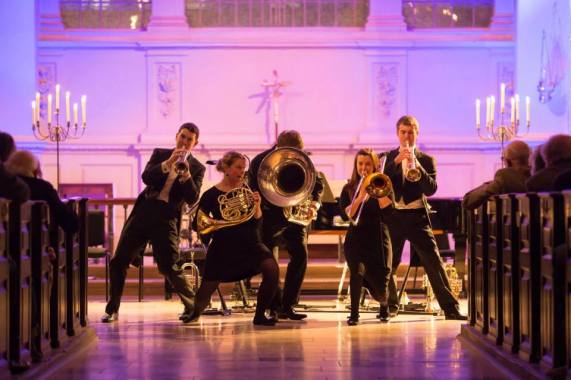 Quintabile Brass Ensemble are one of the UK's leading brass quintets, having been formed over 7 year ago. The group's recital highlights include their Purcell Room debut in May 2014, and performances at the Barbican, St. Martin-in-the-Fields and Colston Hall, Bristol. Most recently they were runners-up in the Jan Koetsier International Brass Quintet Competition 2014 and were recipients of the audience prize and runners-up in the 2014 St. Martin-in-the-Fields chamber music competition. Before this they won the 2013/14 Philharmonia-Martin Musical Scholarship Fund chamber music award and were finalists in the Worcester Three Choirs Festival Brass Competition 2011.

In July 2013 the quintet were invited to perform at the world renowned Banff International Music Festival in Canada, where they also performed alongside American super group All Star Brass. Residencies before this have been at the Combret Music Festival, France (2011), Dartington International Music Festival (2010) and the Newark Brass Festival (2009).
 
Quintabile are proud to be part of the Live Music Now! Scheme, with whom they have performed extensively across the UK and also enjoy sharing their enthusiasm with school children, having established links with both the Lincolnshire and Northamptonshire Music Services. In 2013 Quintabile released their first studio album and have been broadcast to International audiences on the BBC World Service. The group was also featured in an article in the UK publication the Brass Herald.
 
Quintabile are Concordia Foundation Chamber Music Artists and are supported by The Fidelio Trust, Tillett Trust and Association MusiqueCombret.


Booking Us
Quintabile Brass Ensemble is available for all engagements and can provide music to suit your needs. Please contact us if you have any queries.
The information contained in these CVs is provided by the clients of MAS.
MAS takes no responsibility for their accuracy.