Ensembles Directory
Iuventus Quartet
The Iuventus quartet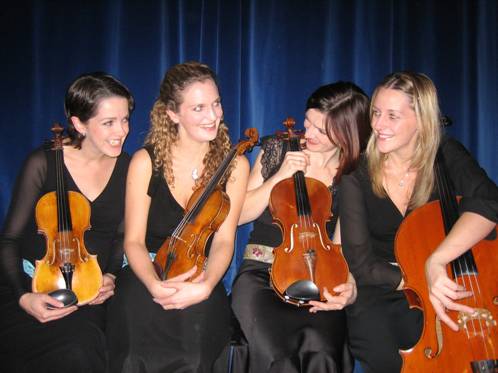 FORMED IN 2003, The Iuventus quartet has been hailed be the Irish Times as "startling" – "Theirs was a purely musical approach – bracing, fearless and utterly engaging."  The Strad wrote of their "technical ease, sensitivity to style, elegance in phrasing and excellent intonation" and hailed their rendition of Janacek's First Quartet as "powerfully communicated". They have performed at venues throughout the UK, at the 2003- 2005 Chichester Festivities, and at the National Concert Hall in Dublin. The Iuventus Quartet was chosen for the Countess of Munster Recital Scheme and is playing at music societies throughout the country in the 2006 season. In another recent review, the Iuventus were described as "spellbinding", bringing to the music "great expertise, dedication and superb musicianship". The quartet has also played at the Buxton Festival, the Cambridge Summer Recital Series and St Martin-in-the-Fields, London.
Ruth Rogers (violin) studied with Itzhak Rashkovsky and Herman Krebbers. She graduated from the Royal College of Music in 2001 and was awarded the Tagore Gold Medal - the college's highest accolade - by HRH The Prince of Wales.  She has performed as a soloist at such prestigious venues as The Wigmore Hall, the Queen Elizabeth Hall, the Purcell Room, and St John's Smith Square. Ruth has appeared in concert alongside distinguished performers, including Shlomo Mintz, Ida Haendel, and John Lill, and has lead orchestras under the batons of Lorin Maazel, Colin Davis, and Daniele Gatti. She works regularly with the London Symphony Orchestra and European Camerata, and as leader of the London Strings.  In 2003, Ruth appeared regularly as a soloist alongside Andrea Bocelli – they performed together at the Royal Albert Hall, for television broadcasts, and at venues throughout Europe.
Elizabeth Williams (violin) studied as a scholar at the Royal Academy of Music where she was awarded, amongst others, the Roth Violin Prize for her final recital. As a postgraduate she won a major scholarship to study with Mauricio Fuks in Bloomington, Indiana and since returning to Britain has enjoyed a busy freelance career as a member of the Academy of St Martin in the Fields, London Chamber Orchestra and as guest principal with the Scottish Chamber Orchestra.
As a soloist and chamber musician she has broadcast on Radio 3 and Classic FM, toured with the Academy of St Martin in the Fields Chamber Ensemble and performed concertos at the South Bank. In addition to her playing work, Liz currently holds teaching positions at Alleyn's and the Harrodian Schools in London.
Originally from Edinburgh, Rebecca Low (viola) began playing the violin and viola when she was nine and studied with Eta Cohen for five years, becoming leader of the National Youth Chamber Orchestra. In 1988 Rebecca joined the Yehudi Menuhin School and then went on to study at the Royal Academy of Music, graduating with a B.Mus First Class Honours 1996. Much in demand as a viola player, Rebecca works regularly with the Philharmonia orchestra, the London Chamber Orchestra, Music Theatre Wales, and the BT Scottish Ensemble, working as Education Officer of the latter and organising projects and workshops all over Scotland. 
Katherine Jenkinson (cello) won the Maisie Lewis Award and, playing on a Markevitch Stradivari, gave her debut Wigmore Hall recital with duo partner Alison Farr last spring. As a soloist she has performed throughout Europe and in Africa and Asia. Katherine is a committed chamber musician. On top of her schedule with the Iuventus quartet, she performs string sextets with principal members of CBSO and is a member of Rautio Piano Trio with whom she is supported this year by Tillett Trust. As a scholar of Royal Academy of Music, Katherine studied with Colin Carr & David Strange & gained a first class degree & DipRAM. She has been generously supported by Countess of Munster, MBF & Worshipful Company of Musicians. Katherine has recently made a CD of the Second Suite for Solo 'Cello which was written especially for her by the composer Thomas Hyde. Katherine plays on the Panormo cello previously belonging to the late William Pleeth and kindly on loan to her by members of his family.
CONTACT 
For quartet enquiries contact Ruth via MAS.
The information contained in these CVs is provided by the clients of MAS.
MAS takes no responsibility for their accuracy.