Ensembles Directory
Dionysus Ensemble
The Dionysus Ensemble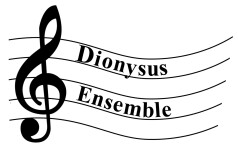 Website
A virtuosic chamber ensemble with a string quartet at its core, The Dionysus Ensemble is equally at home on the concert platform, playing for events in both formal and informal settings, as well as providing music education projects. 
Recipient of a 2021 Royal Philharmonic Society Award, The Dionysus Ensemble has also been selected by The British Council to represent the UK in their Australia Season in 2022.
Since 2013, the string team from The Dionysus Ensemble have run three not for profit interactive children's concert series, and in 2018 were appointed the first ever professional musical ensemble to be officially attached to the Commonwealth – as Ensemble In Residence for accredited music organisation, The Commonwealth Resounds.   
As part of TDE's Commonwealth work, the ensemble have delivered a Music for Social Change outreach project in The Solomon Islands, run a project on poetry & music with vulnerable teenagers in Slough and a climate change music project for Jesuit Missions in three of their UK schools.   
TDE were honoured to be selected to play at the Commonwealth Day service in 2019 which was broadcast live internationally from Westminster Abbey by the BBC, and our founder & Artistic Director, Léonie Adams, was also presented to The Queen and senior members of the Royal Family & Government at the end of the service at the request of The Palace.   
Since then TDE have been invited to perform at private events for the Royal Commonwealth Society and at Marlborough House for Secretary-General Patricia Scotland including for the inaugural Commonwealth Day Heads of State Banquet in 2020. 
In 2020, The Commonwealth Secretariat commissioned TDE to create an online Commonwealth musical video with performers from each member nation coming together during the pandemic - the United Commonwealth Covid Music Project. 
https://youtu.be/9nraTLDkr4c
The Dionysus Ensemble was recently commissioned by the Mayor of London as part of his "Let's Do London" campaign, to provide a series of interactive PopUp performances in central London & has delivered a workshop & performance project with children & community groups for HOMESlough as part of the COP26 climate change summit. 
TDE have also released a world premiere recording of newly discovered music by William Herschel to critical acclaim, as part of the bicentenary celebrations in 2022 for William Herschel.
The information contained in these CVs is provided by the clients of MAS.
MAS takes no responsibility for their accuracy.