Ensembles Directory
Brodowski Quartet
The Brodowski Quartet
                                                                 Violin - Charlotte Maclet
                                                                       Violin - Catrin Win Morgan
                                                                       Viola - Felix Tanner
                                                                       Cello - Reinoud Ford

First Prize Winners of the 2008 Royal Overseas League Competition, "the brilliant Brodowski are a group to watch out for"The Independent. The quartet members, originating from Germany, Wales, Scotland and Holland are currently based in London and are currently 'Associate Artists' at the Anvil Concert Hall in Basingstoke. They recently completed a three year residency at Bristol University and were previously awarded the Richard Carne Fellowship for Chamber Ensembles at Trinity College of Music, as well as the Bulldog Scholarship for String Quartet.

The Quartet have won prizes in numerous competitions including First Prize in the Royal Overseas League Competition, First Prize in the Val Tidone International Chamber Music Competition in Italy and Second Prize at the 'Gaetano Zinetti' International Chamber Music Competition in Italy, also winning the Special Award of 'Artists in Residence'. They were selected as Park Lane Group Young Artists, giving a critically acclaimed recital at the Purcell Room in London, their playing being described as 'open and honest', The Times.

Since formation they have enjoyed performing in some of the foremost venues in the UK such as the Wigmore Hall, Queen Elizabeth Hall, Kings Place, Barbican Hall, Purcell Room, the Edinburgh Festival and Brighton Festival, where they won the latest7 magazine award for 'Best Classical Music Act 2009'. They have performed extensively throughout Europe, notably in the Kronberg Festival, Orlando Festival, and held a residencies in both Anghiari and Verona, Italy.

The Quartet has performed live on BBC Radio 3 and recorded English composer John Pickard's 1st and 5th Quartets for Toccata Classics. They have collaborated with the virtuoso recorder player Jill Kemp, featuring on her CD of 20th Century British composers and also collaborated on a Jazz project 'Flight' for Edition Records.

The Quartet is dedicated to educational work, and in 2012 they were 'String Quartet in Residence' for the Young Composer of Dyfed Competition. They perform to over four thousand children each year through workshops and concerts in association with the Philharmonia Education Department, Anvil Arts, Glyndebourne Opera and the Cavatina Chamber Music Trust whose invaluable work increases awareness of Chamber Music amongst young people.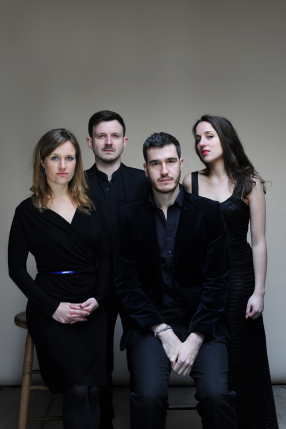 'The brilliant Brodowski are a group to watch out for'
The Independent

'a foursome to watch, up and coming young quartet'
The Times – one of six young international quartets named in this category as part of an article on the retirement of the Alban Berg Quartet.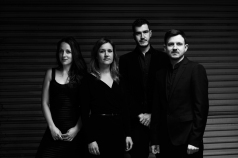 'These virtuosic young players demonstrated the flare with which they tackle the most challenging of works'
The Strad Magazine

'The Brodowskis held us in rapt attention, every emotion was reactivated….a performance of startling energy….a masterclass in ensemble playing'
Musical Pointers
"New kids on the London scene"
The Times
For further information please email info@brodowskiquartet.com
This ensemble does not currently have any members.
The information contained in these CVs is provided by the clients of MAS.
MAS takes no responsibility for their accuracy.