Tom Williams
Bass Trombone
Instruments taught: Bass trombone, Trombone, Tuba, Trumpet, French Horn, Euphonium, and beginner piano
Areas taught in: London
Teaching venue: Teachers Home, Students Home, Online or in person
Charges: £40 in person an hour, £35 online an hour
Ability and age range taught: Any age, any ability, from initial to diploma grades for brass
Piano up to grade 6, any age
DBS certified: Yes, full enhanced DBS
Brief summary of teaching qualifications/experience: 100% Success rate of student grades and exams, working with B Sharp Studios as a brass and piano Tutor, teaching regular lessons. I also work as a tutor for the Tower Hamlets Art and Music Education Service, teaching both 1-1's and group lessons, as well as orchestral sectionals and assisting in larger groups alongside other tutors.
To send a teaching enquiry to this player, please call or email us
The information contained in this advert is provided by the client of MAS.
MAS takes no responsibility for its accuracy.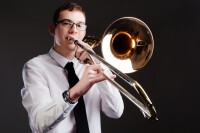 Instruments
Bass Trombone