Book this PlayerBack to Ensemble
Rachel Wick
Harp
Freelance Orchestra Work
Royal Philharmonic Orchestra & Concert Orchestra

BBC Concert Orchestra

London Philharmonic Orchestra

Bournemouth Symphony Orchestra

London Concert Orchestra

London Mozart Players

City of London Sinfonia

Orchestre Révolutionnaire et Romantique

Gabrieli Consort & Players

Norwegian Opera & Ballet (Oslo)

Symphony Orchestra of India

Senbla Concert Orchestra

Arensky Chamber Orchestra

Faust Chamber Orchestra

Multi-Storey Orchestra

Mahogany Opera

London Gala Orchestra

Sinfonia Verdi

Nova Music Opera

Ryedale Festival Opera Orchestra

Arts Symphonic

London Soloists' Chamber Orchestra

Orpheus Sinfonia

Prometheus Orchestra

Sessions

English Session Orchestra
Sound of Music Live for ITV, December 2015
London Philharmonic Orchestra – filming for Mission Impossible 5


Orchestral Training

London Philharmonic Orchestra's Foyle Future First Scheme 2011/12
Royal Academy of Music Symphony Orchestra, Concert Orchestra, Opera Orchestra & Manson Ensemble

Joint orchestra of the Royal Academy of Music and the Juilliard School – Principal
National Youth Orchestra of Great Britain (2006-2008, Principal Harp 2007 and 2008)



Discs

Treasures of Christchurch The Choir of Christ Church Cathedral, Oxford, directed by Steven Darlington
Illumina: Music of Light The Choir of New College, Oxford, directed by Edward Higginbottom
Howard Goodall: Inspired The Howard Goodall Chamber Orchestra & Enchanted Voices directed by Howard Goodall
Harp Gallery Works for solo harp and harp ensemble by Paul Patterson



Teaching and Coaching

Junior Department of the Royal Academy of Music – harp teacher and chamber music coach (2013 - )
Berkhamsted School – harp teacher (2015 - )
Harp Section Tutor for the National Children's Orchestra (2015 - )
Harp Tutor, Camden Deaf Youth Music Club (run by the charity Music and the Deaf) (2012-2014)



Outreach Work

Live Music Now – numerous interactive concerts in care homes, hospices, SEN schools including residencies in Treehouse School (for autistic children) and Oakleigh School (PMLD and SEN) as both a soloist and with Thomas Hancox (flute)
CAVATINA Chamber Music Trust – family and schools' concerts with Thomas Hancox (flute)
Solo recitals for Bach to Baby
London Philharmonic Orchestra – Funharmonics at the Royal Festival Hall
Wigmore Hall Learning: 'For Crying Out Loud' Performance at Wigmore Hall (with Thomas Hancox, flute)
Schools' workshops with the Arensky Chamber Orchestra
'Billy's Band' with Sinfonia Verdi



Chamber Work

Formed Antara Flute & Harp Duo in 2007 with Thomas Hancox (flute) – guest artists on board P&O and Fred Olsen cruise ships (2011), recital artists on the Countess of Munster Scheme (2013-15). Numerous performances including at Cheltenham Festival, St Davids Festival and Colston Hall. Concerto performances (Mozart) in Oxford and Canterbury.


Education

Royal Academy of Music – MA with distinction and LRAM (2011-2013)
St. Peter's College, Oxford – BA Hons. in Music. First Class. (2007-2010) - Recipient of Domus Award (academic scholarship), Paul Geddes Instrumental Award and Joan Conway Scholarship
Harp studies primarily with Thelma Owen (1995-2005), Sioned Williams (2005-2010) and Karen Vaughan (2010-2013)
Other

Founder and Artistic Co-director of the Dunster Festival

The information contained in this CV is provided by the client of MAS.
MAS takes no responsibility for its accuracy.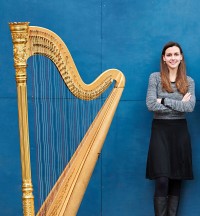 Instruments
Harp
Ensembles
Antara Duo