Lucy Rundle (nee Heath)
Double Bass
Instrument taught: Double Bass
Areas taught in: Berkshire
Teaching venue: teacher's home (RG42)
Charges: £36 per hour (pro rata)
Ability and age range taught: all ages and abilities
DBS certified
Brief summary of teaching qualifications/experience: 
My qualifications include a BMus(Hons) and PG diploma, both from the Royal College of Music. The students I teach range from age 6 - adult, in either individual or group lessons, and I have also coached youth orchestra sectionals, run workshops and conducted youth orchestras. Lessons are 30, 40 or 60 minutes long, depending on age and ability.
To send a teaching enquiry to this player, please call or email us
The information contained in this advert is provided by the client of MAS.
MAS takes no responsibility for its accuracy.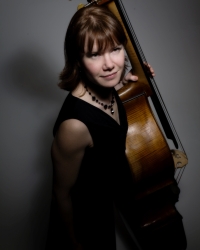 Instruments
Double Bass