Book this PlayerBack to Search
Eloise Riddell
Double Bass
Professional Orchestral
BBC National Orchestra of Wales
Royal Philharmonic Orchestra

London Contemporary Orchestra
Welsh National Opera
Opera North
The Street Orchestra of London: Principal
Belmont Ensemble

Cardiff Sinfonietta - Extra list
Eroica Ensemble
Outcry Ensemble: Principal and Tutti
Orpheus Sinfonia: Principal
The Little Orchestra
Janus Ensemble
London Haydn Project            
Chimera Ensemble: Principal  
The Light of Music Orchestra: Principal         
Hampstead Garden Opera
Saffron Opera Group – Die Walkure
Giardino Strings
Amadeus Orchestra
Beckenham Chorale: Principal
Hammersmith Posk Opera
London Graduate Orchestra
LMA Orchestra           
Coveryard Collective
London Symphony Orchestra String Scheme
Non-classical: Penderecki Threnody for the Victims of Hiroshima
Oxford Opera Company
Chamber Music
Temple Music Foundation: Quintet with Solo harp
Scordatura: Women's Music Collective: An ensemble championing music written by women. Repertoire ranges from the baroque to contemporary and world music. (2017 onwards)
Trio Giocoso for Double Bass, Viola and Piano (2017)
Music for Double Bass ensemble alongside David Daly & David Heyes in concerts such as 'Basses Galore' at the Silk Mill, Frome, 'Bass Attack' in Wells Cathedral School, 'Vienna City of Dreams' in the United Reform Church, Farnham, 'Basses in Berkshire' 'Bass Bass Bass' and 'The Double Bass Sings' both in St Mary's Church (between 2013-2017).
Recordings
London Contemporary Orchestra film recording session
Roger Ballen's 'Theatre of Apparitions' shown at Edinburgh International Film Festival (2016)
'Naked Noise' recording session (2015)
Orchestral Training
Britten Sinfonia Side by Side with Royal Academy of Music - Birtwistle Melancholia 1 (broadcast on Radio 3)
London Sinfonietta Side by Side with Royal Academy of Music - Stockhausen Gruppen (broadcast on Radio 3)
Royal Academy of Music Symphony Orchestra - principal
Royal Academy of Music Concert Orchestra, Royal Academy of Music Manson Ensemble at British Film Institute and Wilton's Music Hall, premiered a new score to Alfred Hitchcock's The Pleasure Garden.

Solo
Recent 2017 solo premieres include 5 'one minute' solos by Michal Bylina, John Alexander and Armand Russell as well as Double Bass ensemble premieres of pieces by John Alexander and Armand Russell
OperaUpClose Magic Flute R&D session (2016)
Commissioned and premiered many solo works such as 'Spanish Sounds' by Simon Garcia, 'Suite for Eloise', 'Moving On' and 'Moving on again' by Tony Osborne and a movement of 'Dance Suite' by Eric Funk.
Outreach Experience
London Basses workshops, 2016 - current: run, organise and lead Double Bass workshops for children & adults.
Creative Futures (2016-2018) Early Years music practitioner in both nursery and drop-in settings and music practitioner working with hearing impaired students at Oak Lodge School.
Croydon Alzheimer's Society and Sunrise Purley Care Home: I co-led music workshops for adults living with Dementia.
Spitalfield's Music: worked on a project in a school as part of their Winter Festival with Julian West and Polly Beeson.
English Touring Opera: several projects including one in a special needs school in Northolt working with Tim Yealland and Rachel Leech.
English Chamber Orchestra: worked alongside Bozidar Vukotic and Paul Sherman mentoring Awards of Young Musicians students on Beethoven's Septet.
Academy of St Martin in the Fields: worked with homeless adults in the West London Day Centre.
Open Academy Fellow 2014-2015: worked alongside many different workshop leaders in schools, nursery settings, sheltered housing and care homes, such as Jesse Maryon Davies, John Webb, Jackie Walduck and Caroline Welsh as well as leading and developing my own sessions. 
Education and Qualifications
Royal Academy of Music - MA Double Bass 2014, BMus (Hons) 2013 and Entrance Scholarship 2009
LRAM Teaching Diploma with Distinction 2012
Professors:
Duncan McTier, Graham Mitchell and Rodney Stewart:
Masterclasses:
Joel Quarrington, Bozo Paradzik, Matthew McDonald, Dominic Seldis, Dan Styffe, Corrado Canonici.
Double Bass:
Chamber bass (dated 1814) by Thomas Kennedy.
Referees
Graham Mitchell                     
Tom Goodman
The information contained in this CV is provided by the client of MAS.
MAS takes no responsibility for its accuracy.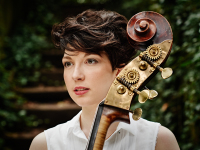 Instruments
Double Bass