Alanna Pennar-Macfarlane
Bassoon
Instruments taught:
Bassoon, Contrabassoon, Clarinet, Trumpet (and relative instruments) and Music Theory.
Areas taught in: Cardiff and online
Teaching venue: Pupil's home/Zoom
Charges: £48 p/h
Ability and age range taught: all ages and abilities welcome for Bassoon, Contrabassoon, Clarinet and Trumpet
Up to Grade 6 for music theory.
DBS certified: Yes
Brief summary of teaching qualifications/experience:
LRAM teaching qualification – 2020, Masters in Performance from Royal College of Music – 2019, Bachelor of Music from Royal Academy of Music - 2017
Bassoon teacher at Wellington school since 2021
7 years private teaching all levels from child beginners to adult learners, including putting pupils through ABRSM grades.
2 years' experience working for local music services.

To send a teaching enquiry to this player, please call or email us
The information contained in this advert is provided by the client of MAS.
MAS takes no responsibility for its accuracy.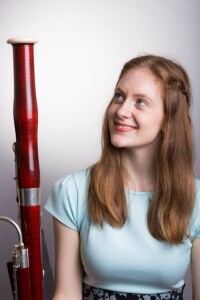 Instruments
Bassoon, Contrabassoon