Book this PlayerBack to Search
Sam Lewis
Trumpet
Professional Orchestral
Oxford Philharmonic Orchestra
London Musical Arts Orchestra*
Multi-Story Orchestra

English Arts Orchestra*
New English Concert Orchestra
Covent Garden Sinfonia/Orchestra of St. Paul's*
English Symphony Orchestra
St Petersburg Ballet Orchestra*
London Ballroom Ensemble*
London Pops Orchestra
Milton Keynes City Orchestra
Thames Sinfonia*
British Sinfonietta
Orpheus Sinfonia*
Kidenza Orchestra*
Commonwealth Cantata*
Sinfonia Cymru - extra list
Maidstone Symphony Orchestra*
Period Instruments:
Brandenburg Baroque Soloists*
Darmstadt Hofkapelle
Hertfordshire Baroque Soloists 
*denotes Principal
Education/Outreach Work
Kidenza "classical concerts for kids"
Kent County Youth Orchestra & Kent Youth Symphonic Band - sectional coaching
LSO Discovery: workshops and individual lessons
Theatre/Commercial
Thursford Christmas Spectacular – 2nd Trumpet Deputy
London Function Band
Cash Cows function band
ELODS theatre band – 1st/Lead Trumpet
Green Room theatre band – 1st/Lead Trumpet
The Veils - Motel Mozaïque Festival 2013
Asahi Gold - London 2012 TV Commercial
Chamber Ensembles
Astley Strings – Trumpet and String Trio
Jubilate Brass – deputy
Quintabile brass quintet – deputy
Berkshire Brass – deputy
Solo
Meechan – Song for Hope
Vivaldi – Concerto in C for Two Trumpets, RV. 537
Telemann – Concerto in D Major
Stölzel (arr. M.André) – Oboe Concerto in D Major
Arutiunian – Trumpet Concerto
Torelli – Concerto in D 'Estienne Roger'
Haydn – Trumpet Concerto
Harry James – Concerto for Trumpet
Recitals and Competitions
2014 and 2016: Festival de la Musique Sacrée, St Malo - Soloist
2011 and 2012: GSMD Armourers and Braziers Competition - Finalist
Recordings
Philip Sawyers: Symphony No.3, Songs of Loss and Regret, Fanfare – English Symphony Orchestra
Elgar Piano Quintet, Sea Pictures, orch. Donald Fraser - English Symphony Orchestra
Education
MMus with Distinction – GSMD 2012
BMus (Hons) 1st Class – GSMD 2011
Professors: Paul Beniston; Paul Cosh; Steve Keavy; Anne McAneney; Alison Balsom; Brian Thomson
Awards: Guildhall School Trust; Saltzman Award - Worshipful Company of Tobacco Pipe Makers and Tobacco Blenders; Leverhulme Trust; Wolfson Foundation
Referee:
Chris Deacon
The information contained in this CV is provided by the client of MAS.
MAS takes no responsibility for its accuracy.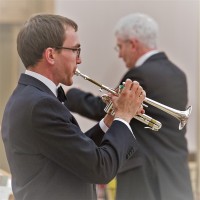 Instruments
Trumpet, C Trumpet, Cornet, D Trumpet, Eb Trumpet, Flugelhorn, Natural Trumpet, Piccolo Trumpet