Book this PlayerBack to Ensemble
Antonia Kesel
Violin
ORCHESTRAL EXPERIENCE

Antonia has recently been appointed Co-principal 2nd Violin with the London Mozart Players. She also works with London Concert & Mozart Festival Orchestras, Bournemouth Symphony Orchestra,

 

Aurora Orchestra and London Contemporary Orchestra.Sessions for Hilary Skewes & Isobel Grif?ths Ltd.

 
SOLO & CHAMBER MUSIC

Founding member of Trio Derazey (Formerly Jorgensen Trio) who have appeared at venues including St Johns Smith Square, St Martin-In-The-Fields, Colston Hall, the Norfolk and Norwich festival and Oslo Opera House, Dartington Summer School and IMS Prussia Cove. RAM CAVATINA chamber music fellows (2016) and recipients of the Jacob Barnes Scholarship award (2012) at the Royal Academy of Music.

 

Their CD 'Colour of Blossoms' of the chamber works of Cecilia McDowall was released in 2017 and can be found on iTunes, Spotify or Amazon. Prizes and competitions include St-Martin-in-the-?eld's (1st prize 2015), Malta IMC (1st prize 2015), ROSL (2017 ?nalists), Harry Isaacs @ RAM (winner 2012), Craxton @ RAM (winner 2013), Elias Fawcett UK intercollegiate chamber music prize (2014).

 
Antonia plays recitals regularly for clubs and music societies around the UK. Recently she returned as soloist with St Johns Chamber Orchestra to perform Mozart's Sinfonia Concertante at Norden Farm Arts Centre.

 



Antonia is the leader of the Phacelia Ensemble performing piano and string chamber works in the UK and Germany, and she is second Violin with Calgary Quartet who tour the UK, Scotland and the Borders annually and appear in the Mendelssohn on Mull Fringe Festival.

Toured Russia and Italy as leader of Owen Murray Accordion & String Quartet contemporary ensemble.
                                                               EDUCATION AND QUALIFICATIONS
2011-2015                                     






2009-2011

Royal Academy of Music              






Purcell School
BMus with First Class Honours: violin: Jack 
Liebeck, chamber music: Levon Chilingirian
and Ian Brown. Masterclasses with Menahem
Pressler, Olivier Charlier, Katherine Stott,
Robert Cohen, Raphael Wall?sch and
Thomas Adès.

A Levels: Music (A), French (B) English Lit. (B)
violin studies with Evgeny Grach

 
 
 
 
 
 
The information contained in this CV is provided by the client of MAS.
MAS takes no responsibility for its accuracy.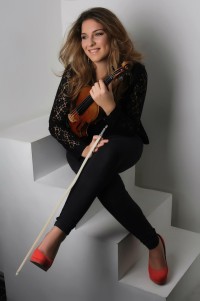 Instruments
Violin