Gareth Humphreys
Bassoon
Instruments taught: Bassoon, Saxophone, Clarinet, Music Theory
Areas taught in: London - Camberwell and surrounding areas.
Teaching venue: Students home.
Charges: £35
Ability and age range taught: All ages and abilities.
DBS certified: Yes
Brief summary of teaching qualifications/experience: I have 6 years teaching experience
in a variety of different ways, be it private tuition or in schools. I also have experience in
leading workshops.

To send a teaching enquiry to this player, please call or email us
The information contained in this advert is provided by the client of MAS.
MAS takes no responsibility for its accuracy.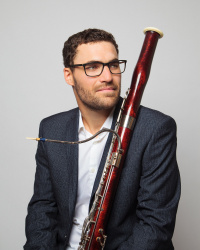 Instruments
Bassoon