Catriona Hepburn
Violin
Instrument taught:
V
iolin
Areas taught in:  SE9 (Eltham, Bromley, Chislehurst), or further afield if the student is willing to travel
Teaching venue:  teacher's home (SE9)
Charges: £36/hour, £27/45 minutes, £18/30 minutes
Ability and age range taught:  Beginners to grade 8 and beyond.  Age from 7 years, and adult beginners are also welcome
Brief summary of teaching qualifications/experience: I have an LRAM (1997), which is a teaching diploma from the Royal Academy of Music.  I have over 20 years of teaching experience, with a diverse range of pupils: beginners of all ages, advanced teenagers, adults who learnt at school and have returned to the instrument, and also the leader of an amateur orchestra.
I enter pupils for the ABRSM exams, grades 1 – 8 (with a 100% pass rate so far!), but if you prefer not to sit exams that is absolutely fine.
My approach is to customise my teaching to suit the individual's needs, rather than to follow a particular school of violin teaching.  For young children, I encourage parents to sit in on the lessons if possible, so they can learn what is required and help with practising.  This is very valuable in the early stages where learning a good violin and bow hold is both important and quite complex.
I have a great love of playing the violin and I do a lot of performing, freelancing with some of the country's best orchestras, which I think helps me to pass on my enthusiasm to my students!
The information contained in this advert is provided by the client of MAS.
MAS takes no responsibility for its accuracy.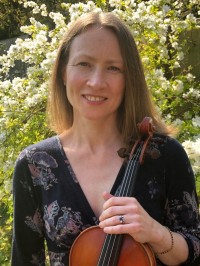 Instruments
Violin