Grady Hassan
Tuba
Instruments taught:

Tuba, Trombone, Trumpet, Cornet, Euphonium, Baritone Horn, Piano
Areas taught in:

London (West)
Teaching venue:
From home in West Ealing or at the student's homes
Charges:
£25 for 30 minutes and £40 for 60 minutes
Ability and age range taught:
All ages welcomed
Tuba, Euphonium, Baritone horn – beginners to beyond diploma
Trumpet, Cornet – beginners to grade 8
Trombone – beginners to grade 5
Piano- beginners to grade 3
DBS certified with the update service
Brief summary of teaching qualifications/experience:
I have been teaching since 2017. Since I began teaching, I have worked for Ceredigion Music Service, Lambeth Music Service, the Tri-borough Music Service and Slough Music Services as well as teaching privately. I've taught students from a wide range of ages, abilities and backgrounds and have significant experience preparing students for graded exams.
To send a teaching enquiry to this player, please call or email us
The information contained in this advert is provided by the client of MAS.
MAS takes no responsibility for its accuracy.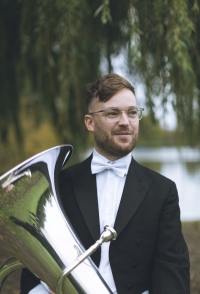 Instruments
Tuba, Cimbasso, Sousaphone