Gregory Duggan
Cello
Instrument taught:
Cello
Areas taught in: Twickenham, Richmond, Wimbledon
Teaching venue: Teachers Home however will consider traveling to students if feasible.
Charges: £20 Half Hour    £40 Hour
Ability and age range taught: Beginners to advanced
CRB certified: Yes
 Brief summary of teaching qualifications/experience:
I have an up to date CRB check and have taught in the London area for a number of years, both privately and as part of Reeds School and Sutton Music Service. As such my students have encompassed beginners to post diploma level, those who want to pursue the cello seriously and those who want to learn (or re-learn) for fun. I teach from home however in certain situations will consider traveling to students homes.
To send a teaching enquiry to this player, please call or email us
The information contained in this advert is provided by the client of MAS.
MAS takes no responsibility for its accuracy.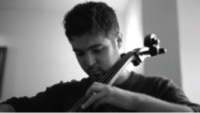 Instruments
Cello