Tom Crehan
Violin
Instrument taught
Violin
Areas taught in
West London
Teaching venue:
At home: Ealing, West London
Charges:
£40 per hour
Ability and age range taught:
Any
CRB certificate:
Yes
Brief summary of teaching qualifications/experience: 
Violin tuition at:
Durston House Preparatory School, Ealing
St James High School, Ashford
Richmond Music Trust
Ealing Youth Orchestra, Visiting Sectional Leader.

To send a teaching enquiry to this player, please call or email us
The information contained in this advert is provided by the client of MAS.
MAS takes no responsibility for its accuracy.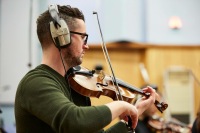 Instruments
Violin, Electric Violin, Irish Folk Fiddle