Rosie Bowker
Flute
Instruments taught: Flute, Piccolo, Baroque Flute and Classical Flute
Areas taught in: South East London
Teaching venue: Teacher's home or student's home
Charges: £40/hour
Ability and age range taught: All ages and abilities
DBS certified: Yes
Brief summary of teaching qualifications/experience:
I have experience of teaching the flute at all levels. I teach adults and children privately, teach improvisation to undergraduate and postgraduate students at the Guildhall School of Music & Drama, and work for Wells Cathedral School (Specialist Music school) and Waltham Forest Music Service. I am happy to prepare students for music exams, or just to teach music for fun - completely up to you.

As well as teaching I am a professional flautist. I have performed with the London Symphony Orchestra (LSO), City of Birmingham Symphony Orchestra, BBC Scottish Symphony Orchestra, Opera North, RTE National Symphony Orchestra, and Orchestra of the Age of Enlightenment (OAE) among others. I also do outreach work for Live Music Now, LSO Discovery, OAE TOTs and Music in Hospitals & Care.

I hold a Masters in Performance from the Guildhall School of Music & Drama and a BA in Music from the University of Cambridge.
To send a teaching enquiry to this player, please call or email us
The information contained in this advert is provided by the client of MAS.
MAS takes no responsibility for its accuracy.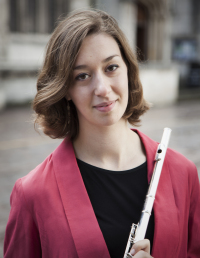 Instruments
Flute, Alto Flute, Baroque Flute, Classical Flute, Piccolo
Ensembles
Pocket Sinfonia, Bowker-Myslek Duo