Book this PlayerBack to Search
Rita Schindler
Harp
Professional Orchestral Experience

Welsh National Opera
City of Birmingham Symphony Orchestra
Mid Wales Opera Company
English Symphony Orchestra
Mahogany Opera Group
Bampton Classical Opera
Birmingham Philhamonic Orchestra
Central England Ensemble
Birmingham Chamber Orchestra
CBSO Youth Orchestra (2011)
Birmingham Festival Orchestra
Lakeside Sinfonia
Worcester SymphonyOrchestra
Education/Qualifications
2014 - present      BCU Birmingham Conservatoire, Junior Fellow
2012 - 2014          Guildhall School of Music and Drama, Mmus, Principal study: Harp, with Imogen Barford.
2007 - 2011          BCU Birmingham Conservatoire, Bmus (Hons) Principal study: Harp, with Catherine White.
Awards/Scholarships
2014, September - Honorary Junior Fellowship from Birmingham Conservatoire
2012, November - Winner of the Central England Ensemble Concerto Competition
2012-2014 - Scholarship to study at Guildhall School of Music and Drama
2010, September - Scholarship from BCU, Birmingham Conservatoire
2010, May - Won first prize with distinction in chamber music category at the North London Festival of Music and Drama
2008, June - Royal Philharmonic Society's Young Artist and Sir John Barbirolli Foundation Recipient

Performing Experience
Rita has performed professionally in and in front of numerous orchestras and ensembles in Britain and across Europe, most notably with the highly acclaimed City of Birmingham Symphony Orchestra, Welsh National Opera, English Symphony Orchestra and Mid Wales Opera Company. As a soloist, Rita has performed live on BBC radio 4 with St Chad's Cathedral Choir and recently played harp concertos with Birmingham Chamber Orchestra, Central England Ensemble, Solihull Symphony Orchestra and London Hungarian Symphony Orchestra.
Rita has performed in masterclasses with renowned artists such as Isabelle Perrin, Alice Giles, Milda Agazarian, Helga Storck, Andrew Laurence-King, Katherine Thomas, Gabriella Dall'Olio, Elinor Bennett, Caryl Thomas, Skaila Kanga, Karen Vaughan, Robert Johnston, Irina Zingg, Sioned Williams, Imogen Barford, Helen Tunstall, Bryn Lewis, Charlotte Seale.


Teaching Experience2009, June - 2010
September Leicester Grammar School, Great Glen, Leicester
Position: Celtic harp teacher
2009, April - 2012
October Milton Keynes Music Service – Simpson, Milton Keynes
Position: Pedal- and Celtic harp teacher.
2009, November - present
Leicestershire Arts in Education
Position: Pedal - and Celtic harp teacher
The information contained in this CV is provided by the client of MAS.
MAS takes no responsibility for its accuracy.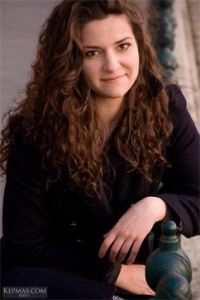 Instruments
Harp