Book this PlayerBack to Search
Antonia Kesel
Violin

TRIO DERAZY

Founding member of Trio Derazey (Formerly Jorgensen Trio).  Regular performers at St Johns Smith Square, St Martin-In-The-Fields, Colston Hall, the Norfolk and Norwich festival and Oslo Opera House, Dartington Summer School and IMS Prussia Cove. RAM CAVATINA chamber music fellows (2016) and recipients of the Jacob Barnes Scholarship award (2012) at the Royal Academy of Music.  The Trio's CD 'Colour of Blossoms' can be found on iTunes, Spotify or Amazon.


Prizes and competitions include St-Martin-in-the-?eld's (1st prize 2015), Malta IMC (1st prize 2015), ROSL (2017 ?nalists), Harry Isaacs @ RAM (winner 2012), Craxton @ RAM (winner 2013), Elias Fawcett UK intercollegiate chamber music prize (2014).
SOLO & CHAMBER MUSIC
Solo performances include the Mendelssohn Concerto with London Youth Symphony Orchestra, the Brahms Double Concerto with LSE Symphony Orchestra and Beethoven Romances with St Johns Chamber Orchestra; Solo Recitals include Brunel University, Old Bluecoat School and Dukes Hall RAM; In January 2018 Antonia will return to the St Johns Chamber Orchestra to perform Mozarts Sinfonia Concertante.


Quartet player for Mendelssohn on Mull Festival and for their showcase tour of Scotland and the Borders. Violinist in Contemporary Ensemble X.Y


Toured Russia and Italy as leader of Owen Murray Accordion & String Quartet contemporary ensemble


COMMERCIAL AND ORCHESTRAL
London Concert & Mozart Festival Orchestras, Aurora Orchestra, Marylebone Camerata, Brandenburg Sinfonia and Orchestra Nova.  Sessions for Hilary Skewes.  Pop bands include 'We Are The Ocean' & 'Bring Me The Horizon. Regular guest leader for Choral Society Concerts around the UK.


EDUCATION AND QUALIFICATIONS
 2011-2015     

Royal Academy of Music     

BMus with First Class Honours: violin: Jack Liebeck,
Chamber music: Levon Chilingirian and Ian Brown.
Masterclasses with Menahem Pressler, Olivier Charlier,
Katherine Stott, Robert Cohen, Raphael Wall?sch and Thomas Adès


 2009-2011
Purcell School

A Levels: Music (A), French (B) English Lit. (B) violin studies with Evgeny Grach

The information contained in this CV is provided by the client of MAS.
MAS takes no responsibility for its accuracy.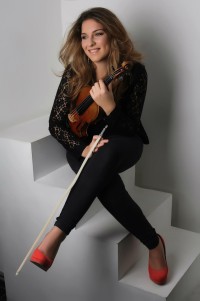 Instruments
Violin
Ensembles
Jørgensen Trio