Book this PlayerBack to Search
Tom Bott
Violin
Professional orchestral experience:
Bournemouth Symphony Orchestra (Regular extra work)
Philharmonia Orchestra

City of Birmingham Symphony Orchestra
National Symphony Orchestra – Guest Principal 2nd Violin / sitting Co Principal
Northern Ballet – Guest Co Principal 2nd violin
Royal Liverpool Philharmonic Orchestra
RTE National Symphony Orchestra
Royal Philharmonic Orchestra
Royal Philharmonic Concert Orchestra – Guest Co-Principal 2nd Violin

Royal Scottish National Orchestra - Trial, Tutti 2nd Violin 2004

London Festival Orchestra
London Soloists Chamber Orchestra
Mozart Festival Orchestra
London Concert Orchestra – Guest Principal & Co Principal 2nd Violin
Regency Sinfonia – Guest Principal 2nd Violin
Orchestra of the Swan
English Symphony Orchestra (Trial, Tutti 2nd Violin 2003)
London Pops Orchestra
Bad Ischl Operetta Festival Orchestra – Austria - (2003 & '04)
South Bank Sinfonia

Current positions held:

The King & I 2nd violin chair. Entire run from June - September 2018

Bootleg Beatles (position since 2014)
Leader of the Pepperland Sinfonia (16 piece touring orchestra with the Bootleg Beatles)

Sessions, shows, film & TV:
Roz Colls Music Matters Int. Ltd, Sue Carling – sessions for X Factor Britain's Got Talent album, single & TV broadcasts.
West end shows include Phantom of the Opera (Regular extra) and Wicked.

Tom Bott's High Society Orchestra (founder & director).
Founded in 2008 - Providing light English, Hollywood film and ballroom music for public and private events in London and the South West. Events organised, self-financed and promoted include a Ball with our full orchestra, coordinated with professional dancers. Please see website for further details:
www.HighSocietyOrchestra.London
Education:

Birmingham Conservatoire (1997 – 2003)

References:
Matthew Scrivener (Leader English National Ballet & National Symphony Orchestra)
Michael Seal (Previous tutor / Assistant Conductor CBSO)

Previous tutors:
1997-2001            Mike Seal
2001-2003            Peter Thomas
2003-2006            Duncan Riddell
The information contained in this CV is provided by the client of MAS.
MAS takes no responsibility for its accuracy.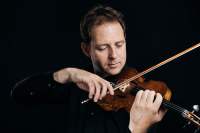 Instruments
Violin
Ensembles
High Society Orchestra