Book this PlayerBack to Search
Louisa Aldridge
Violin
ORCHESTRAL WORK:

Classical:

Royal Philharmonic Orchestra
Bournemouth Symphony Orchestra – trial
Royal Liverpool Philharmonic Orchestra
Hallé
London Symphony Orchestra - String Scheme
Royal Ballet Sinfonia - trial
Malaysian Philharmonic Orchestra (extra work Aug 2001 - July 2002)
Isobel Griffiths sessions
Royal Philharmonic Concert Orchestra
Northern Ballet
London Concertante
English Sinfonia
West End:

Sinatra (Feb - Sept 2006, including leading)
Porgy and Bess
Spamalot
Follies
Opera:

European Chamber Opera
Opera UK
Co-Opera Ireland
Handmade Opera
Pop:

The Divine Comedy - solo violin, UK tour
Jools Holland's Rhythm & Blues Orchestra
Wired Strings (TV)
Sue Carling (TV)
Millennia Strings (sessions)

EDUCATION:

Trinity College of Music, Advanced PG Dip in performance 1998 - 2000
Manchester University, B Mus (hons): First class
Professors: Hugh Bean   ·  Peter Cropper

SCHOLARSHIPS AND AWARDS:

Countess of Munster (1999-2000)
Trinity College of Music scholarship
Manchester University McMyn Scholar
Hargreaves prize for outstanding performance in final year exams and recital

CHAMBER/SOLO

Britton-Carvalho Ensemble: chamber sextet, playing contemporary and classical Brazilian music. British Council funded tours in Brazil and UK
Lerato String Quartet
BBC World Service recital
Bach Doubles with the Hatcham Chamber Orchestra
Cruises aboard MS Black Watch and Black Prince (violin and piano recitals)
Masterclasses with Colin Carr, Alberni and Lindsay String Quartets

The information contained in this CV is provided by the client of MAS.
MAS takes no responsibility for its accuracy.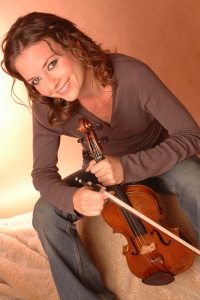 Instruments
Violin