Will Padfield
Horn
Instruments taught: French horn, Piano, theory and conducting
 
Areas taught in: London
 
Teaching venue: Teacher or students home, or Royal academy of Music

Charges: 35 pounds an hour
 
Ability and age range taught:
Horn: beginner to grade 8+
Piano: Beginner to grade 6
Theory: Beginner to grade 8+

DBS certified:
Yes
 
Brief summary of teaching qualifications/experience:

I have been teaching theory, horn and piano since the age of 16.
Studying at the university of Manchester has given me a highly advance knowledge of music theory
Studied horn and conducting on the RNCM/University of Manchester "joint course" (BMUS 2:1)
Masters in horn at the Royal Academy of Music
I took a teaching module whilst studying at the RNCM which has further advanced my teaching capabilities
I teach horn at East Barnet Music Centre

I frequently give masterclasses in schools including Abingdon college, Reading Blue Coat school, Lancing College and Farnborough College and as a result I have extensive experience teaching the horn to young students
I have been invited several times to coach the horn players at Eton college
I have volunteered for the charity "Brass for Africa" which involves teaching brass and conducting to the children in the Uganda station
Through my experience presenting a series of children's concerts with the Hallé, I have further developed my approach to working with young people
Through coaching amateur orchestras and sections I feel very confident teaching adults as well.
To send a teaching enquiry to this player, please call or email us


The information contained in this advert is provided by the client of MAS.
MAS takes no responsibility for its accuracy.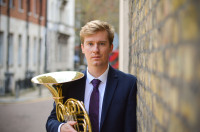 Instruments
Horn, Baroque Horn, Conductor, Natural Horn, Wagner Tuba