Elena Marigómez
Double Bass
Instruments taught:
Double bass and piano

Areas taught in:
Double bass, piano and music theory

Teaching venue:
Teacher's home and student's home

Charges:
Between 30 - 40 £, depending on travel distances and lesson's lengths

Ability and age range taught:
Double bass: all age range and abilities
Piano: beginners
Music Theory: all age range and abilities

DBS certified
Yes

Brief summary of teaching qualifications/experience:

Double Bass Master of Performance at Guildhall School of Music & Drama of London
Deputy double bass teacher in Ealing Junior Music School (London)
Teaches privately
During the last year, I have been a part of the Music Society at Queen Mary University helping double bass students. Also in Spain before coming to London, I was employed for over four year at the Segovia Music School where I coached the Almenara Senior String Ensemble and also Palazuelos Elementary School coaching the Youth String Ensemble.
I also have some experience coaching the London Symphony Orchestra "On Track Musicians" and East London Schools, Queen Mary University Symphony Orchestra.
London Symphony Orchestra
Spanish National Orchestra
Euskadi Symphony Orchestra
Gustav Mahler Jungendorchestra
Britten-Pears Young Artist Programme
London Solists Philharmonic
Madrid opera house
Valencia Chamber Orchestra
Iford Opera Festival
Founder member of the contemporary music ensemble Deco Ensemble www.decoensemble.com
in which we have recorded albums and toured in all Europe.
To send a teaching enquiry to this player, please call or email us
The information contained in this advert is provided by the client of MAS.
MAS takes no responsibility for its accuracy.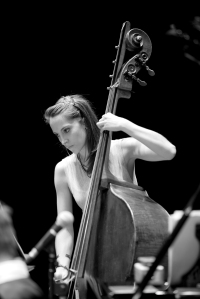 Instruments
Double Bass, Baroque Double Bass, Remote Recording
Ensembles
DECO Ensemble