Carina Drury
Cello
Instruments taught:
cello, baroque cello
Areas taught in:
Croydon, South Croydon
Teaching venue:
teacher's home (preferred), can travel locally
Charges:
£40ph
Ability and age range taught:
beginners-experienced
DBS certified: Yes

Brief summary of teaching qualifications/experience: I have been teaching privately for 13 years and was a cello teacher at Gatehouse School London for 6 years. Orchestral coaching: Glyndebourne Youth Orchestra, Imperial College Symphony Orchestra, Harrow Youth Orchestra
The information contained in this advert is provided by the client of MAS.
MAS takes no responsibility for its accuracy.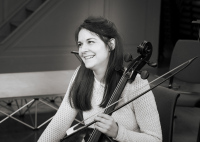 Instruments
Cello, Baroque Cello