Oliver Butterworth
Percussion
Instruments taught: Drum Kit, Percussion and Piano
Areas taught in:  North London
Teaching venue:  Oliver's home and Students home
Charges:  £40 per hour
Ability and age range taught:
All abilities on Percussion and Drum Kit. Up to grade 6 on Piano.
All age ranges including adults

DBS certified

Brief summary of teaching qualifications/experience:
Staff member of the National Children's Orchestra
Peripatetic Percussion teacher at Rugby school
Peripatetic Percussion teacher at Bilton Grange school
Part time Percussion and Drum Kit teacher at The Centre for Young Musician
Part time Drum Kit teacher at Blackheath Conservatoire of Music
Private Drum Kit, Percussion and Piano teacher with 100% pass rate
Workshop leader for Percussion days in schools including Samba bands.
Licentiate of the Royal Academy of Music (teaching diploma)
To send a teaching enquiry to this player, please call or email us
The information contained in this advert is provided by the client of MAS.
MAS takes no responsibility for its accuracy.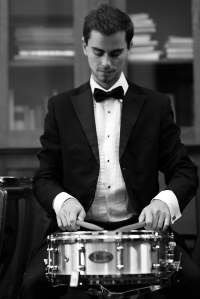 Instruments
Percussion, Baroque Timpani, Drum Kit, Ethnic Percussion, Timpani