Book this PlayerBack to Search
Christopher Windass
Violin








1979-83         







1980-83       



1983

1984-87                

1992 

2005

1988 - present

1990 - present

Studied at Birmingham School of Music.
Violin Teachers: Ernest Element and Peter Thomas
Viola Teachers: John White and Rosemary Sanderson
Diplomas: GBSM (Performing)
ABSM (Performing, teaching and recital categories)
Awarded honorary Degree for services to music  in 2000
Studies continued privately since with Manoug Parikan, Emmanuel Hurwitz and David Takano

Violist Perry String Quartet  (Resident at the college and sponsored by BRBM independent radio).

Recitals given included Harrogate, Hereford, Birmingham and Bath festivals, and many regular broadcasts.



Guildhall String Ensemble

Member of the English String Orchestra.  Principal/sub principal 2nd violin.

Medici String Quartet - 2nd violin

Brodsky String Quartet   - Mendlessohn Octet

Regular player with Glyndebourne Touring Opera and Garsington Opera

Regular player with Garsington Opera
Other work as a violinist includes:


Chamber Orchestras
English Chamber Orchestra
London Chamber Orchestra
City of London Sinfonia


East of England Orchestra


Symphony Orchestras


Royal Philharmonic Orchestra




London Philharmonic Orchestra




The Philharmonia




City of Birmingham Symphony Orchestra




The Royal Liverpool Philharmonic Orchestra




BBC Welsh Orchestra




Scottish National Orchestra




The Ulster Orchestra


Opera


Glyndebourne Touring Opera




English Touring Opera




Central Festival Opera (leader)




Opera East (leader)




Cannon Hill Opera







Regular appearances in chamber music concerts









Director/Administrator of  Adderbury Music Trust , Coffee Concerts Trust , Adderbury Concerts Trust
                       
This organization runs two series of concerts ( Music in Adderbury and Oxford Coffee Concerts )  and the Adderbury Chamber Ensemble.

The information contained in this CV is provided by the client of MAS.
MAS takes no responsibility for its accuracy.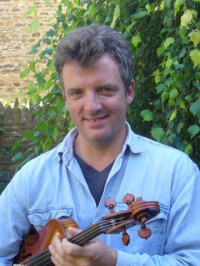 Instruments
Violin