Book this PlayerBack to Search
Kate Walsh
Flute
Website

ORCHESTRAL EXPERIENCE includes:

Northern Ballet Theatre orchestra

Bournemouth Symphony Orchestra

Iceni Orchestra

All Saints Orchestra

Aurelian Ensemble

Orion Chamber Orchestra

Hertfordshire Chamber Orchestra

Covent Garden Chamber Orchestra

Orchester der Landesregierung Nordrhein Westfalen (FRG)

Various one off professional freelance orchestras

Brent Opera

Opera for All

Hemel Hempstead and other Theatre Companies

Solo flute RAF Presidents band



Television and Radio broadcasts:
 BBC 1, Mexican Television, Yorkshire Television. BBC Radio Solent, Austrian Radio, Canadian Radio, Mexican Radio, Melody Radio and a Platform Live Recital on Classic FM ).

CD recordings: 2 solo CDs "What Katie did" (1992), "Invocation" (1998) and experience of commercial recording work.

Solo and chamber  

Recitals in London and the South East

Appeared in Born Free gala concert and Royal estate workers concert

All Keyed Up flute Quartet

Soloist with North London Philharmonia, Caledonian Symphony Orchestra, Winchmore Strings, Academic Festival Orchestra of London, Berwang Strings

Worked as guest artist on Cunard Countess and Royal Princess
QUALIFICATIONS
M.A. (Musicology)  City University       
LGSMD performance diploma (flute) Guildhall School of Music & Drama
Graduate Diploma - London College of Music (GLCM)           
Fellowships of the London College of Music (Recital Diplomas)   
Flute & Voice
Licentiates of the London College of Music (Teaching Diplomas)   
Flute & Voice   
Suzuki Flute Teacher's Diploma (among the first granted in the UK)   

 
2001
1999
1982
1981

1979

1992
PRIZES AND AWARDS
Hampshire County Council Intermediate Exhibition for Flute, Voice and Piano
Full Bursary, Victoria Conservatory of Music (Canada) for flute tuition.
W.S.Lloyd Webber Performance Prize.
Freedom of City of London for Services to Music
Sir Jack/Lady Lyons Performance Scholarship
The information contained in this CV is provided by the client of MAS.
MAS takes no responsibility for its accuracy.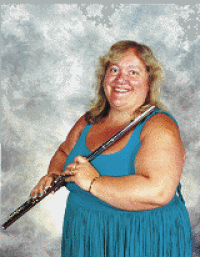 Instruments
Flute, Alto Flute, Bass Flute, Eb Flute, Flute d'Amore, Piccolo