Book this PlayerBack to Search
Eve Heyde
Cello
Professional Orchestral Work:
English Session Orchestra (projects including soundtrack for Stephen Fry's 'Hippopotamus' movie; BBC series 'Wild West'; library sessions for Audio Network including music by John Altman; library sessions for Megatrax; sample sessions for Spitfire)

English Chamber Orchestra

Chamber Orchestra of London

Nigel Kennedy's Orchestra of Life

Britten Sinfonia, side-by-side scheme including BBC Radio 3 broadcast and performance at Milton Court (2014)

London Contemporary Orchestra (performances with Jonny Greenwood at the Roundhouse & Goldfrapp RAH)

Sinfonia Cymru

Southern Sinfonia

Orpheus Sinfonia

Orion Orchestra

London Arts Orchestra

Outcry Ensemble (incl. principal)

Philharmonic Chamber Orchestra of London

Northern Lights Symphony Orchestra

Oxford Philomusica - Apprenticeship Scheme (incl. several performances at the Sheldonian)
Training:
Nash Ensemble, side-by-side performance (2014)

Ensemble

Eroica

(principal)

London Chamber Soloists (principal)

Opera Studio Oxford (principal)

Royal Academy of Music Concert Orchestra (incl. principal), Symphony Orchestra & Chamber Orchestra

Royal Academy Consort with choir of Queen's College Oxford

RAMSU Orchestra (principal 2014 and 2015)

Aldwych Sinfonia (principal)

Solis Ensemble (principal)

Oxford University String Ensemble (principal including tour to Paris)

National Youth Orchestra of Great Britain (2007-10)
Chamber:
Longbow Ensemble (directed by Peter Sheppard Skaerved):

World premiere of Nigel Clarke's Dogger, Fisher for Dover Arts Development; Martinu Sextet at Royal Pump Rooms, Leamington Spa
Commercial CD Recordings:

 

Nigel Clarke, Mihailo Trandafilovski, David Gorton

(S)pacing

for cello duet by Mihailo Trandafilovski:

World premiere at Wilton's Music Hall (2010)

film by Colin Still released on DVD for Optic Nerve (2014)

recording released on the album Five by Innova Recordings (2015)

Swedish music concert with Mats Lidström at Cadogan Hall 

Flinders Piano Trio - founding member, highly commended in Isaacs and Pirani Piano Trio Prize 

Ensemble ISIS (2010-12) including coaching with Peter Maxwell Davies
Musical Theatre:
Sondheim's A Little Night Music - on-stage orchestra for 50th anniversary performance at The Palace Theatre (2015)

The Last Five Years

at Buxton Opera House - on-stage band (2015)

Samson

at Palace Theatre, Essex - on-stage orchestra for premiere (2015)
Pop/Crossover:
Album sessions for Rhydian, Louise Dearman, Kerry Ellis,  Oliver Tompsett and Cynthia Erivo




Music video for Channel 4's LoveLive Random Acts with Spring Offensive

Arts Symphonic incl. session for album by Carly Paoli at Angel Studios

Album launch for Daniel Koek at Australia House 
EDUCATION:
Royal Academy of Music  (2013-15) - MA performance (Distinction)

Worcester College, Oxford University (2010-13) - BA Music (First Class Honours; awarded Worcester College Society Arts Prize)
Professor: David Strange
Masterclasses: Christoph Richter, Ralph Kirshbaum, Guy Johnston
The information contained in this CV is provided by the client of MAS.
MAS takes no responsibility for its accuracy.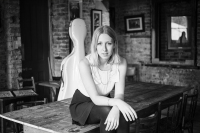 Instruments
Cello