Book this PlayerBack to Ensemble
Thomas Hancox
Flute
Orchestral Experience

Northern Ballet Sinfonia - principal
Guest Principal Flute
Academy of St Martin in the Fields
London Philharmonic Orchestra (inc. trial)
Philharmonia Orchestra
Royal Philharmonic Orchestra
English National Opera
BBC Philharmonic [inc. trial]
BBC Scottish Symphony Orchestra (inc. trial)
English Chamber Orchestra
Royal Northern Sinfonia (inc. trial)
Scottish Chamber Orchestra
Aurora Orchestra
London Mozart Players
City of London Sinfonia
Britten Sinfonia
Northern Ballet Theatre (inc. trial)
Orchestra of St John's
Irish Chamber Orchestra
Royal Philharmonic Concert Orchestra
Brandenburg Sinfonia
Borusan Istanbul Philharmonic Orchestra

Second Flute
English National Opera
BBC Symphony Orchestra
Aurora Orchestra
John Wilson Orchestra (inc. piccolo & alto)

Sessions
Isobel Griffiths Ltd.
COOL Music Ltd. (Gareth Griffiths)
English Session Orchestra
Hilary Skewes Ltd.
London Telefilmonic Orchestra

Baroque Flute
Academy of Ancient Music
Dunedin Consort
London Handel Orchestra
Oxford Baroque
Saraband Consort
 
Orchestral Training
Britten-Pears Orchestra (Principal) • RAM/Julliard Symphony Orchestra (Principal) • RAM Orchestras (Principal)

Chamber & Solo Performances
Concerto performances with Trevor Pinnock, the Locrian Ensemble, London Concertante, and the Kent Concert Orchestra.

Recitals in Cheltenham Festival, Spitalfields Festival, St Davids Festival, Oxford Chamber Music Festival, and Canterbury Festival.

Chamber music with the Allegri Quartet, Sacconi Quartet, Ilya Gringolts, Vladimir Mendelssohn, Matthew Barley, and Matthew Hunt. Member of Antara Flute & Harp Duo (with Rachel Wick) and the Jigsaw Players.

Teaching & Outreach Work
Acting Chief Executive for CAVATINA Chamber Music Trust (February 2016-)
Artist for Live Music Now (2013- )
Artist for CAVATINA Chamber Music Trust (2011- )
Flute Teacher at King's College London (2012-14)
Flute Teacher at the Dragon School, Oxford (2011-14)
Flute Tutor on the Flute Kitchen, Harrogate (2011-)
Wigmore Hall Learning: 'For Crying Out Loud' Performance at Wigmore Hall (with Rachel Wick, harp)
Education
2011 - 2013    MA in Performance (with Distinction and DipRAM for excellence). Royal Academy of Music, London
2011 - 2012    LRAM in teaching practice and pedagogical theory. Royal Academy of Music, London
2010 - 2011    Classe de Perfectionnement, École Nationale de Musique et de Danse, Aulnay-sous-Bois, Paris
2007 - 2010    BA in Music – 1st class. St Peter's College, University of Oxford

Awards
Countess of Munster Musical Trust (including Recital Scheme), Leverhulme Trust, Musicians Benevolent Fund, Craxton Memorial Trust, Arts and Humanities Research Council

Professors
Paul Edmund-Davies, Samuel Coles, Patrick Gallois, Stina Wilson, Ian Morton, Patricia Morris (piccolo)
Rachel Brown, Lisa Beznosiuk, Guy Williams (historical flutes)

Referees: Paul Edmund-Davies, Keith Bragg


The information contained in this CV is provided by the client of MAS.
MAS takes no responsibility for its accuracy.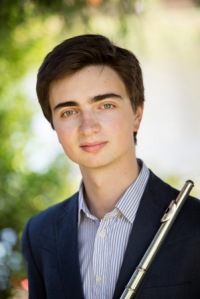 Instruments
Flute, Alto Flute, Baroque Flute, Bass Flute, Piccolo
Ensembles
Antara Duo