Book this PlayerBack to Search
Christopher Green
Flute

Orchestra of the Welsh National Opera
Musicians from Welsh National Opera
BBC National Orchestra of Wales
Brandenburg Sinfonia
British Sinfonietta
Welsh Session Orchestra
Rosenau Sinfonia
Cardiff Sinfonietta
Chipping Campden Festival Orchestra
Dorset Opera
Mozart Symphony Orchestra
Amadeus Orchestra
Cardiff Chamber Players
Sussex Symphony Orchestra                                  


Sub-Principal Flute, Piccolo (including tours)
Principal Flute, Piccolo
work offered
Sub-Principal Flute, Piccolo
Sub-Principal Flute, Piccolo
Principal Flute, Sub-Principal Flute, Piccolo, Alto Flute
Piccolo
Principal Flute, Sub-Principal Flute
Piccolo
Piccolo
Piccolo
Sub-Principal Flute, Piccolo
Principal Flute
Principal Flute

Pit work: My Fair Lady, Fiddler on the Roof, Jekyll & Hyde, Sunset Boulevard and Honk!

BBC National Orchestra of Wales side-by-side placement scheme
Welsh National Opera side-by-side placement scheme
Royal Liverpool Philharmonic Orchestra side-by-side rehearsal (RLPO Youth Orchestra)
Royal Academy of Music Symphony Orchestra
London Mahler Orchestra
University of London Symphony Orchestra
RWCMD Symphony, Chamber, Opera and Concert Orchestras
Amadeus Orchestra (China Tour)


Vivaldi Piccolo Concerto: Stafford Sinfonia (2019)
Mozart Concerto for Flute and Harp: Kent Philharmonic Orchestra (2018)
CPE Bach Flute Concerto in D minor (3rd mvt): RAM Flute Ensemble (2018)
Abergavenny Eisteddfod Instrumental Solo 18+ Competition 2nd prize (2016)
RWCMD Frank Kelleher Prize finalist (2015)
RWCMD Concerto Competition semi-finalist: Nielsen Concerto (2014), Ibert Concerto (2015)
Mozart Flute Concerto in G: BGSO (2016), St. Alban's & Friends Orchestra (2011)
Mozart Flute Concerto in D: Bristol Chamber Orchestra (2013)


Welsh National Opera Woodwind Ensemble
RWCMD Chamber Winds (including TV broadcast for Band Cymru 2014 competition final)


Advanced Study Music Scholarship - Arts Council of Wales (2014, 2015 & 2017)
Other sponsors include: Help Musicians UK, Royal Philharmonic Society, EMI Sound Foundation, Kathleen
Trust, Split Infinitive Trust, Macfarlane Walker Trust, Roger David Burrows Music Fund, Cardiff Community
Endowment Fund

Royal Academy of Music: Professional Diploma (2017 - 18)
Royal Welsh College of Music & Drama: MMus in Orchestral Performance (2014 - 16)
Royal Welsh College of Music & Drama: BMus (Hons) Flute (2010 – 14)

Workshop Leader - Making Music Changing Lives
Outreach project - Toddler Time
Deputy Flute Teacher for RWCMD Junior Conservatoire
Private teacher of flute, piano and music theory

Jonathan Burgess
Pat Morris

The information contained in this CV is provided by the client of MAS.
MAS takes no responsibility for its accuracy.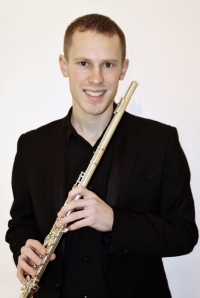 Instruments
Flute, Alto Flute, Piccolo