Book this PlayerBack to Search
Peter Facer
Oboe
CURRENT EMPLOYMENT
West Australian Symphony Orchestra, Principal Oboe

PREVIOUS FULL-TIME ORCHESTRAL POSITIONS
Berlin Staatskapelle Orchestra, Second and Third Oboe (Contract)
Auckland Philharmonia Orchestra, Principal Oboe       

ORCHESTRAL TRIALS
Royal Scottish National Opera, Principal Cor Anglais
English National Opera, Co-Principal Oboe               
BBC National Orchestra of Wales, Principal Oboe           
City of London Sinfonia, Principal Cor Anglais/Second Oboe
BBC Symphony Orchestra, Co-Principal Oboe            
RTE Concert Orchestra, Principal Oboe                   
Odense Symphony Orchestra, Second Oboe               

FREELANCE WORK
Chamber Concerts and Recordings with Ensemble Midtvest   
Kammersinfonie Hannover                       
Ensemble Vagabond                                   

OTHER ORCHESTRAL EXPERIENCE
European Union Youth Orchestra, Principal Oboe           
National Youth Orchestra of Great Britain, Principal Cor Anglais  
LSO St Luke's Woodwind Scheme                   

 
 August 2014-August 2017


February 2013-May 2013
September 2012-December 2012


Sept 2017-Present
May 2017-Present
June 2016-Present
January 2016-Present
January 2016-October 2016
June 2013-August 2014
March 2012-May 2012


November 2013-Ongoing
October 2011-July 2012
December 2015-Ongoing


August 2011-March 2013
December 2004-July 2007
June 2007

RECENT SOLO PERFORMANCES
Oboe Soloist in 'Maali' (Concerto for four wind instruments) with West Australian Symphony Orchestra
Oboe Soloist in Mozart Sinfonia Concertante with Fremantle Chamber Orchestra

NOTABLE RECORDINGS
Complete Brahms Symphonies with West Australian Symphony Orchestra  (ABC Classics 2016)
Hans Abrahamsen: Works for Wind Quintet with Ensemble Midtvest (DaCapo 2015)
Monday's Child (Australian Art Songs) (Allegro Corporation 2016)

EDUCATION
Qualification
Master of Arts in Music
(including DipRAM)

Bachelor of Arts in Music

 
Grade
Distinction


Double First Class


Institution
Royal Academy of Music


Cambridge University

 
Date
2009-2011


2006-2009
Further oboe study also undertaken at the Höchschule für Musik, Hannover (2011-2012)
and Höchschule für Musik, Rostock (2013-2014)

Oboe and Cor Anglais Teachers
Gregor Witt, Klaus Becker, Melanie Ragge, Jill Crowther, Celia Nicklin, Tess Miller, Jo Lively.


The information contained in this CV is provided by the client of MAS.
MAS takes no responsibility for its accuracy.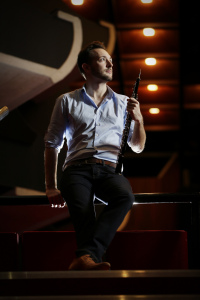 Instruments
Oboe, Bass Oboe, Cor Anglais, Oboe d'Amore